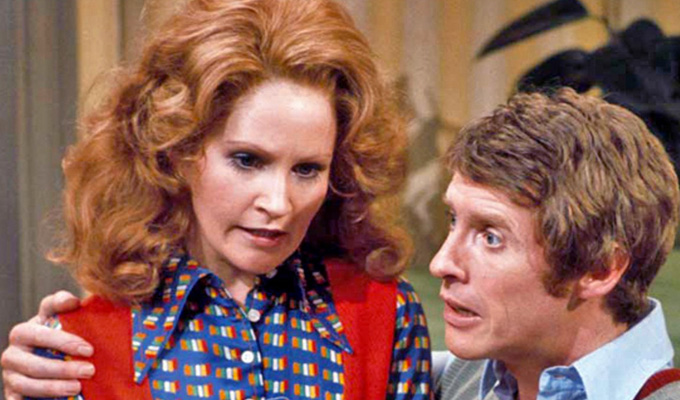 Some Mothers almost didn't 'Ave 'Em
It was one of the biggest comedy shows of the 1970s, hitting 25million viewers at its peak and spawning a million bad impressions.
But Some Mothers Do Ave Em almost never made it to the screen as creator Ray Allen had been so crushed by a brutal rejection letter that he was on the verge of quitting.
The writer he was devastated by the ITV executive who told him: 'You need three things to write comedy: you need a sense of humour, an ear for dialogue and some talent and having read your script you haven't got any of these.'
Already prone to depression,it was almost the final straw, but he decided to approach the BBC with his next idea anyway. 'Well, I thought I'd send it in, but I didn't have much hope for it,' he said.
Allen had endured a long spell of rejection until then, he reveals in a new BBC Southampton documentary to be broadcast tomorrow, and at the time his job was cleaning the toilets in his local cinema.
''I was sending scripts away when I was 15 and by 30 I hadn't sold one,' he said, revealing that he first started writing drama, not comedy
'Because like most people in comedy I tend to get very depressed sometimes,' he told presenter and producer Richard Latto. 'I wanted to write serious drama and I turned to comedy because in drama, I had so many rejections and they kept saying they were crying out for comedy scripts. That's why I sent this one to ITV… and they said give up.'
He gave up on hearing from the BBC, too – but then he was summoned to Television Centre for a meeting with Michael Mills, head of comedy. Mills, who was also instrumental in creating Dad's Army, as this week's BBC Two drama We're Doomed! showed, then quit his executive role to be become the first producer of Some Mothers.
However Allen had another shock. 'There was a lot of stress in it because I then realised I had to write six more episodes,' he said. Having seen Comedy Playhouse shows on the TV, he said: 'I thought it was a one-off.
'I put everything I could think of in this one script. I'd used up everything. It was a struggle.
But he was achieving his dream of becoming a TV writer - and could finally quit his cleaning job, and made a big announcement to his colleagues.
'I said I had a letter from the BBC Television Centre and they want me to go to London and work for them,' he recalled. 'And one of them said, "I can't understand that, you'd think they can get their own cleaners."'
But this was not the end of Allen's woes, as it took another battle to get the show on to TV.
'Because a lot of people in television didn't like the series, we couldn't get anyone to play the part of Frank Spencer for two years,' he said from his Isle of Wight Home. 'No one found it funny. No one wanted to be Frank Spencer and no one wanted to direct it.'
First choice for the role had been Norman Wisdom, but he rejected it – saying after reading the script: 'I suppose he puts the funny lines in afterwards.'
'He couldn't see anything funny in it,' Allen said. 'But I met him years afterwards and he said he wished he had taken it.'
Eventually Michael Crawford's agent approached the BBC seeking a comedy role, and the die was cast.
Allen admits he had some similarities with the lead character, saying: 'Before I'd written it I was in quite a bad state; because I was over 30. I'd never earned more than £10 a week holding down part-time jobs, I was very depressed and I imagine Frank a bit like that.'
They even shared a dress sense, much to Allen's chagrin – when Mills told the wardrobe mistress to look at Allen's favourite raincoat to capture the 'tatty' look he wanted.
The BBC has been reportedly looking at reviving Some Mothers Do Ave Em – but it is not an idea that has gone down too well with Allen, or Michelle Dotrice, who played long-suffering Betty.
Allen said he'd heard nothing about a revival but added: 'I think you'd have to have Michael and Michelle, and I don't know how it can be. I can't image anyone else being Frank Spencer.
And Dotrice said she would not return to part: 'To see Frank and Betty 40 years later I think would be quite terrifying. It's not a good idea seeing Frank Spencer in his 60s, his 70s, that would be frightening.'
• The Some Mothers Do Ave Em special will air on BBC Radio Solent at 3pm tomorrow, and then be available nationwide on iPlayer.
Published: 24 Dec 2015
What do you think?