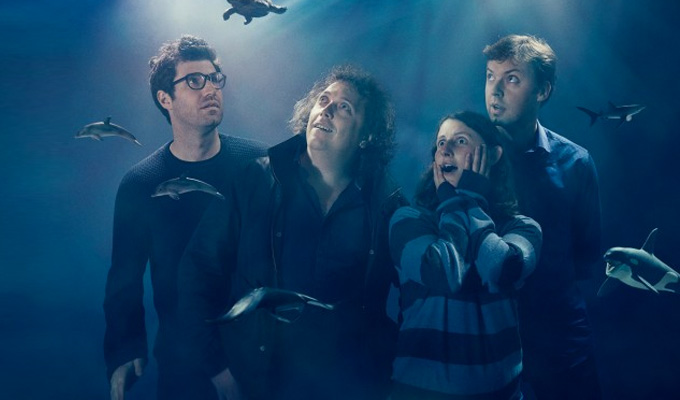 It's a podcast - on vinyl
The researchers behind QI are to release a version of the No Such Thing As A Fish podcast – on vinyl.
In what's thought to be a UK first, the exclusive edition of the Chortle-award-winning podcast about obscure trivia is to be released on indie label Alcopop! Records on November 20.
It will come just days after the so-called QI Elves – Dan Schreiber, James Harkin, Andrew Hunter Murray and Anna Ptaszynski – perform their biggest live show, at the 1,000-seater Lyric Theatre in London's West End as part of a national tour.
The vinyl release will also include access to the full first year of episodes, which have now been removed from general listening from the QI website. Guests on the 52 episodes include QI creator John Lloyd, Only Connect host Victoria Coren Mitchell and Horrible Histories historian Greg Jenner – while the new episode features a cameo from Slipknot frontman Corey Taylor.
Since launching in March 2014, No Such Thing As A Fish has been listened to more than 16 million times, and now boasts 700,000 subscribers.
Alcopop! Records managing director Jack Clothier said: 'It's been such a joy to work with QI and the Elves on this release, and we're really excited to be the first to champion this new generation of podcast rockstars.
'They really are the nicest, most enthusiastic people to hang out with, and this record will deliver everything a comedy or music fan will desire.'
Podcaster Ptaszynski added: 'Just like when we created the podcast itself, the idea for this vinyl was conceived by a bunch of dorks - that's us - drinking beer in a pub. First it made us laugh, then it made us think, "We have to do this."
'We're so excited to have found our indie label soul mates in Alcopop! Records, who have allowed us to make it happen. We can't wait for our Best Album nomination at the NME awards next year!'
Alcopop! grabbed headlines earlier this year after releasing a record named The Wit and Wisdom of Nigel Farage, which was completely silent.
Published: 14 Sep 2015
What do you think?