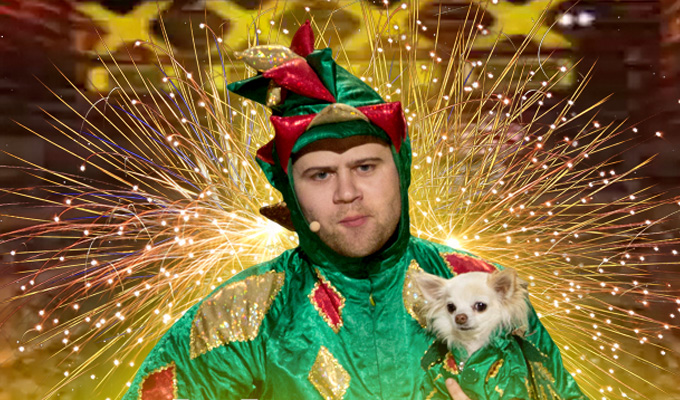 Piff's on fire!
Piff The Magic Dragon has advanced to the next round of America's Got Talent thanks to a dramatic 'golden buzzer' intervention.
The British comedy magician brought his 'secret weapon' –performing chihuahua Mr Piffles - on stage for his second appearance on the NBC talent show last night.
His performance impressed the judges, especially guest Neil Patrick Harris, who used his 'golden buzzer' to propel him through to the live shows at New York's Radio City Music Hall.
Harris said: 'Nice job Piff. I loved the comedy, I loved the actual skill you have in magic. I love your attitude. I'm kinda blown away by it. I think it's great and I don't need to deliberate much.'
He then unexpectedly pressed the buzzer which each judge is only allowed to use once per season, releasing a shower of confetti and guaranteeing the magician's pace in the next round.
During his set, Piff stole a kiss on the lips from supermodel Heidi Klum, another judge he'd brought on stage as his stooge, as he had done during his first appearance.
Piff, now based in Las Vegas, last night performed the second of two nights at the London Wonderground and performs at the Edinburgh Fringe from August 14.
America's Got Talent's live shows are being held in Radio City over 12 nights from August 11 to September 16.
Last night's appearance will have been seen by more than 10 million TV viewers, while the clip of his first performance, in May, has attracted 2.7million views on Facebook.
Here's yesterday's appearance:
Published: 15 Jul 2015
Recent News
What do you think?