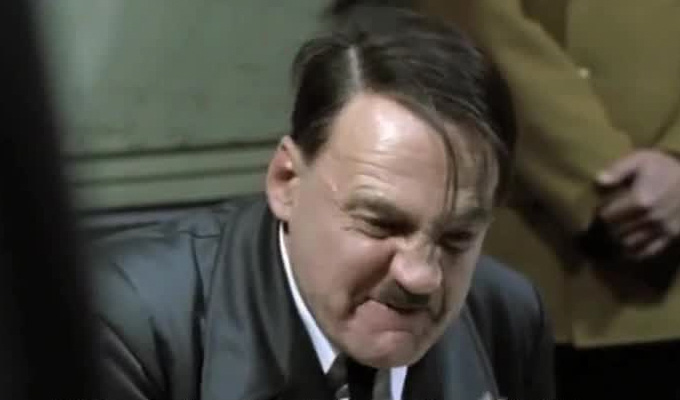 If Hitler played the Free Fringe...
• 'Pete Johansson has to be the best fuck in comedy.' Comedy reviewer Kate Copstick.
• Jessica Hynes won a Bafta for her role as irritating PR Siobhan Sharpe in W1A and its predecessor Twenty Twelve – but she wasn't the first choice for the role. Talking to Graham Norton on his BBC chat show tonight, she said: 'I was called at the last minute because someone had dropped out.' Declining to name the actress, she says, 'She was much smaller that me so I had a very depressing first day in wardrobe – nothing fitted.'
• The Bellevue sketch group, based in New York's UCB Theatre, restaged an old episode of Seinfeld scene-by-scene. Why? Why not…

• In other 1990s sitcom news, a Chinese man is so obsessed with Friends that he's transformed his entire life to mimic the show. Du Xin changed his name to Gunther, the barista, and owns a coffee shop which he has named (and modelled on) Central Perk. He and his wife have a son named Joey, and his apartment is designed like Chandler and Joey's. 'We all want to live in this dream and never wake up,' he said, sounding not a little unlike a suicide cult member:

• Absurdist comedian Paul Vickers, aka Twonkey, is to return to the Edinburgh Stand – six years after he was banned after coating the stage with Lyle's Golden Syrup. He explains: 'I was trying to feed my baby Twonkey half dragon/half witch puppet but it was greedy it wanted the full tin.' In any case the result was a stage doused in the sticky goo – which led to the next act leaving his shoes behind as they stuck to the floor. 'It was funny but The Stand labeled me a troublemaker,' Vickers explained. The ban has now been lifted and he plays there on July 27. But he adds: 'I've been warned dry foods only or I"m out the door.'
• Could this be the end of audiences using cameraphones, checking Facebook and generally being distracted at gigs? San Francisco Yondr is making phone cases which lock – the idea being that punters voluntarily put their phone out of reach for the duration of the show, then get them released at the end via a device like the one that removes anti-theft tags at stores. It's being trialled in a couple of Californian venues… but will it catch on?
• Following yesterday's flare-up between the Free Fringe and Freestival, Stu Turner has proved there's life in this old trope yet:

• Scottish stand-up Joe Heenan captured the imagination of Twitter yesterday after posting this image of his daughter – with a school bag he improvised from a 12-pack of beer. The image has almost 1,500 retweets so far.

My daughter couldn't find her school bag this morning so I made her one. pic.twitter.com/bF1MsOrhAp

— Joe Heenan (@joeheenan) May 21, 2015
• The search is on for the punniest business name in Britain. Non-punning tech company Appsme.com is offering an Apple Watch to the person who submits the best to its blog by June 7 or via Twitter and Instagram using the hashtag #PunniestBiz. Hairdressers called 'A Cut Above' probably need not bother.
• And a clarification about the Kate Copstick quote at the top of this column - she hasn't extended her reviewing scope from the stage to the bedroom… Her comments, which came on her Grouchy Club podcast, are based solely on his stand-up material about female masturbation.
• Tweets Of The Week
Let's decide whether we'd like to see The Sooty Show performed without the puppets. Can we get a show of hands?

— T'Other Simon (@TOther_Simon) May 19, 2015
"Where do you keep the Terminator DVDs?" "Aisle B, back."

— James Martin (@Pundamentalism) May 21, 2015
Jeremy Clarkson says being sacked from Top Gear has left him with a "huge hole" in his life… …which he will continue to talk out of.

— Boothby Graffoe (@boobygraffoe) May 22, 2015
Published: 22 May 2015
What do you think?