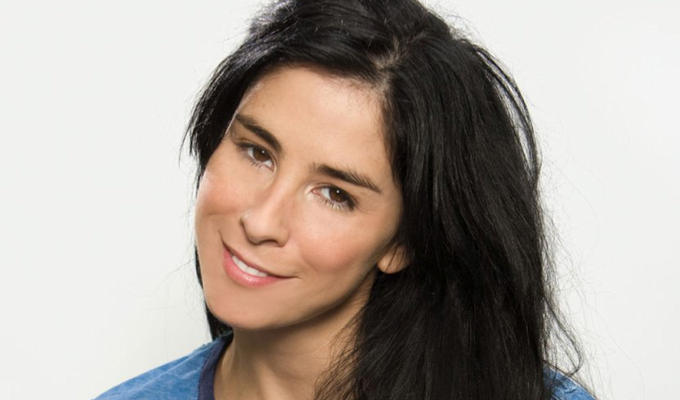 Sarah Silverman pops in again...
Sarah Silverman made unannounced appearances at two London comedy clubs last night.
The star surprised audiences at the 99 Club and the Boat Show with her impromptu set.
It was a return visit to the 99 Club for Silverman, who made an unscheduled stop there and the Comedy Store last June while on a promotional film tour.
She came to the 99 Club last night with her friend, the Catastrophe star Rob Delaney, who didn't take to the stage.
Club promoter and compere James Woroniecki; said: 'Having been here in London for a week she fancied doing some stand-up before heading home tomorrow – and also to stretch that muscle as she's not done stand-up in a little while.'
'The crowd were in stitches from the moment she went on stage, even though she was reading off notes.'
At the Boat Show, on nearby HMS President on the Thames, stand-up Dan Nightingale tweeted: 'Sarah Silverman is on before me at the boat show in London. This doesn't happen in Leeds.'
However, her appearance there might not have been entirely enjoyable. Audience member Ramon Holland tweeted: 'Potentially excellent guest appearance by @SarahKSilverman ruined by awful heckling.'
Silverman has recently won praise for her straight acting debut, playing a self-destructive housewife addicted to drugs in the movie I Smile Back, which premiered at the Sundance Film Festival last month. She is also up for a Grammy award tonight for her album We Are Miracles, alongside fellow nominees Jim Gaffigan, Louis CK, Patton Oswalt and 'Weird Al' Yankovic.
Published: 8 Feb 2015
Recent News
What do you think?