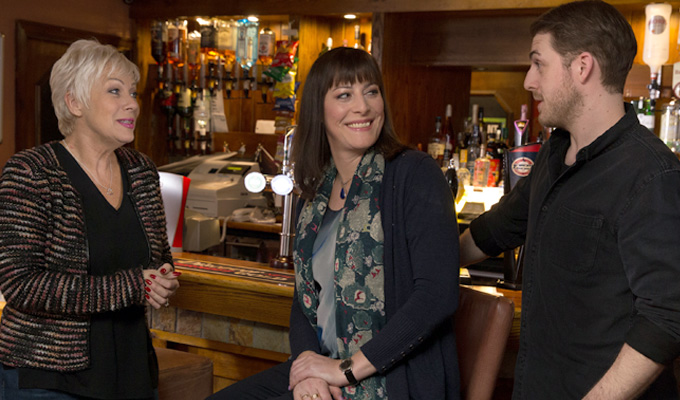 BBC's transgender sitcom: First picture
This is the first picture from Britain's first transgender sitcom, which has just started shooting in Manchester.
Boy Meets Girl was announced last year and developed through a scheme which offered £5,000 for the best comedy script that promoted a positive portrayal of transgender characters.
The story revolves around Leo, who falls for an older woman he meets in a bar, Judy – played by Rebecca Root, a trans actress, voice coach and sometime stand-up.
She is pictured with Harry Hepple as Leo and Benidorm and Coronation Street star Denise Welch, who plays Pam, Leo's mother.
BBC commissioning editor Kristian Smith described Boy Meets Girl as 'a heart-warming romantic comedy that draws on the glorious differences that shape all of us'.
He added: 'It's a brilliant thing to be able to support comedy that is not only funny, but can also promote affirming messages of humanity and acceptance.'
The cast also includes Janine Duvitski, Nigel Betts, Lizzie Roper and Jonny Dixon, plus stand-up Mark Maier who plays the barman. Filming will also take place on location in the North East of England.
No broadcast date has yet been confirmed.
Published: 2 Feb 2015
What do you think?