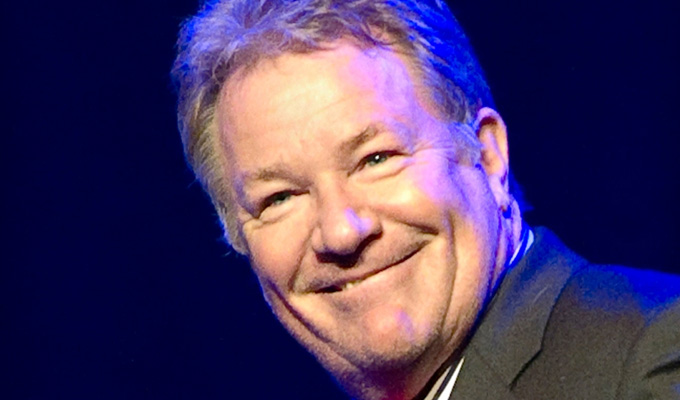 Jim Davidson pulls gig, saying: 'The stage is too high'
Jim Davidson cancelled a gig last night – after complaining that the stage was too high.
The comedian pulled his show at the Regal Theatre in Evesham with an hour's notice, initially citing 'technical problems'.
But this morning he explained that he pulled the gig as he thought the stage was 'scary'.
'Sorry to all who went to the Regal Cinema last night,' he tweeted. 'The stage was 12 feet high. I couldn't stand on it. Simple as that. Sorry.
'I have done 68 gigs since September and have not cancelled one! I just could not stand on a stage that high. Madness!
'I hope everybody got a refund and understands the reason. I'll do a gig down the road and you can all come for free. I am so pissed off.'
He told one fan: 'It was unsafe it was scary. I could not do the show there, it is not really for live gigs'
A statement on the venue's website says: 'Unfortunately Jim Davidson has been cancelled due to unforeseen circumstances, Contact the box office Monday for further information. Thank you.'
Chortle has sought comment from the venue about Davidson's specific complaints about the stage.
In 2003, Davidson famously pulled a gig at Plymouth Pavilions at the last minute when he saw a number of wheelchairs in the front row, saying he felt uncomfortable because he usually gets the audience to 'gang up' against the front row and 'I feared it would appear I was specifically targeting disabled people.'
He is currently back on the road with No Further Action, the show he premiered at last year's Edinburgh Fringe, which covers his arrest as part of the Operation Yewtree inquiries into historic sex abuse accusation – and the length of time it took investigators to dismiss the allegations against him.
Published: 1 Feb 2015
What do you think?