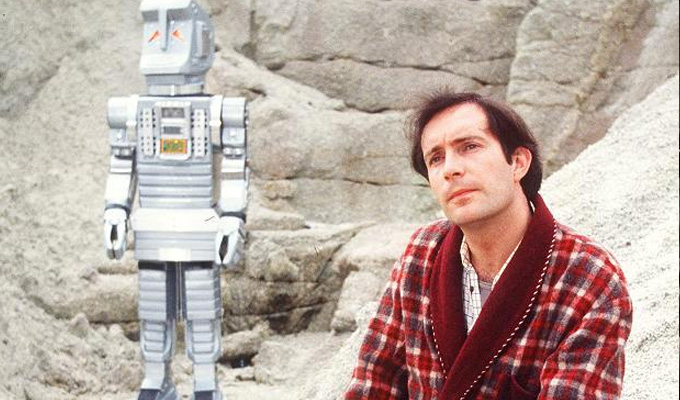 Hitchhikers Guide: What might have been
Some of the ideas Douglas Adams had for the never-made second TV series of the Hitchhikers Guide To The Galaxy were revealed last night.
His thoughts included getting rid of Zaphod Beeblebrox's second head – which never looked convincing with the 1980s special effects and BBC budgets – and building up the role of Trillian, the only major female character in the story.
The first series ended with Ford Prefect and Arthur Dent stranded on a prehistoric earth populated by people exiled from another civilisation because their pointless jobs were deemed entirely superfluous.
Adams's ideas included the characters of Ad Man and Eve, who meet a robotic advertising snake 'who can sell anything from apples to a dog turd', the audience at the Chortle Comedy Book Festival heard last night.
Adams's biographer, Jem Roberts, and actor Toby Longworth, who has played planet-builder Slartibartfast in stage adaptations of the cult comedy, exclusively reenacted the proposed opening scene, with the permission of Adams's daughter, Polly.
In the scene Prefect and Dent are whiling away the days until they discover 'under construction' signs about 'structural work to the spacial-temporal dimension' – and a mysterious doorway in the middle of nowhere that offers them away out.
A list Adams made of other ideas for the series, which largely remained unwritten, included
• Ultimate truth drug
• Return of Slartibartfast
• Astrology? How does that work if you are moving all the time
• Coleridge
• Forest toupees
• President paid to take the blame for everything
• The 17-million-year pause
• The submarine refuge. 'I wonder now how good an idea this is,' Adams wrote. I might have been a bit drunk.'

Much of the the lost material features in Roberts' new book The Frood: The Authorised and Very Official History of Douglas Adams & the Hitchhiker's Guide to the Galaxy, out now priced £20. Click here to buy from Foyles.
• The Chortle Comedy Book Festival continues in Camden, North London, until Friday. Tonight features comedy shows from haughty Frenchman Marcel Lucont, plugging his book What We French Think About You English And Where You Are Going Wrong (Tickets) or a double-bill from Christian comedians Paul Kerensa and Andy Kind. (Tickets)
Published: 11 Nov 2014
Recent News
What do you think?