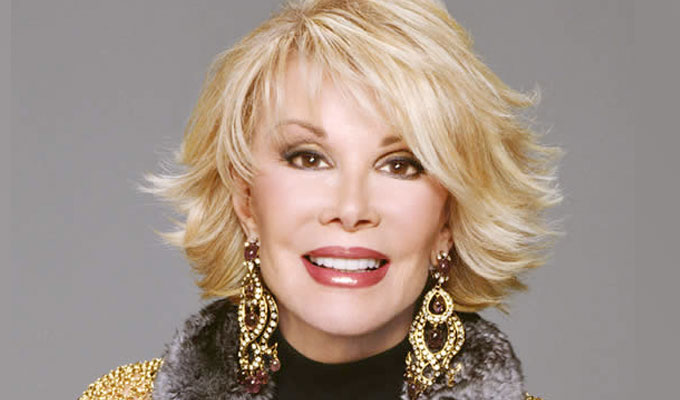 Joan Rivers: Gaza victims 'deserve to be dead'
Joan Rivers is at the centre of a new controversy after saying that Palestinian casualties in Gaza 'deserve to be dead'.
The comic says she was 'taken out of context' after a video was posted online of her angrily telling a journalist that she wasn't going to mourn the 1,888 who have died in Israel's attacks.
She added that the casualties had 'very low IQs' because they didn't get out when warned of the strikes – and blamed the Palestinian people for bringing the deaths on themselves.
'When you declare war, you declare war,' Rivers said in the video, posted on TMZ.com.
'They started it. We now don't count who's dead. You're dead. You deserve to be dead. You started it. You started it. Don't you dare make me feel sad about that.'
Speaking at Los Angeles airport, Rivers compared Israel's strikes on Gaza to the atomic bombs dropped on Japan in 1945.
'You were told to get out, you don't get out, then you know you're an idiot,' she said. 'At least the ones that were killed were the ones with very low IQs.'
In a statement posted online Rivers blamed the media for reporting an 'inflammatory non-sequitur' and not accurately reflecting her intentions behind the statement. But she made no direct apology for her words.
She said: 'I am both saddened and disappointed that my statement about the tragedy of civilian casualties was totally taken out of context. What I said and stand behind is, war is hell and unfortunately civilians are victims of political conflicts.
'We, The United States, certainly know this as 69 years later we still feel the guilt of Hiroshima and Nagasaki.
'The media, as usual, has decided to only quote the most out of context and inflammatory non sequitur rather than giving an accurate account of what my intentions were behind the statement.
'Along with every other sane person in this world, I am praying for peace. It is stupid and wrong and I am tired of bearing the brunt of attacks by people who want to sell newspapers or gain ratings by creating a scandal about me that is non-existent.'
Palestinian authorities say that in the past month 1,888 people, including 446 children, have died in Gaza.
Published: 8 Aug 2014
Recent News
What do you think?