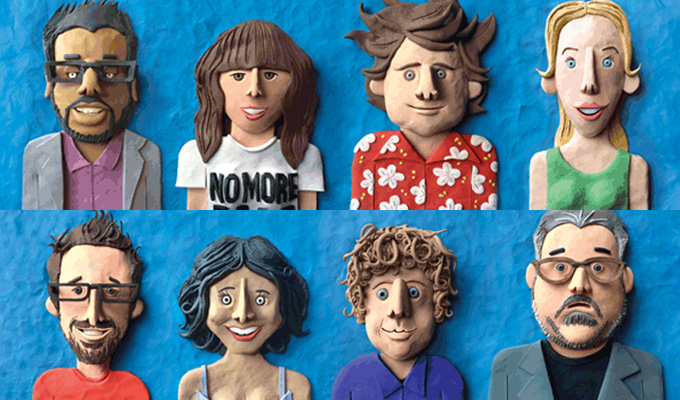 It's not all Monty Python...
The comedy week ahead
Monday June 30
LIVE IN TRING: The Tringe Festival - promoted by these cute Plasticine figures - runs at the Court Theatre all week. Mostly it's Edinburgh-bound works in progress from well-established acts, but tonight offers up Arthur Smith Evening of Curios - a night of peculiar variety-style acts including Steve Best, Tina T'urner Tea Lady and Candy Gigi.
DVD: The just-finished second series of Channel 4's Friday Night Dinner, with Tom Rosenthal, Simon Bird and Tamsin Greig, is out to buy today here
Tuesday July 1
LIVE IN LONDON: Monty Python at the O2. Say no more...
Wednesday July 2
LIVE IN BRISTOL: The city's Comedy Garden returns to Queen Square, five nights of marquee names in, well, a marquee. Al Murray, Milton Jones and Stewart Francis are among the quality acts on offer. Website.
Thursday July 3
LIVE IN GLASGOW: Franke Boyle does some more work-in-progress at the Stand's regular Thursday night gig, which is headlined by the lugubrious Mick Ferry.
Friday July 4:
RADIO: Some of the best TV sketches from Stephen and Hugh's TV series A Bit Of Fry And Laurie were compiled into a Radio 4 show in 1994… which now gets a welcome repeat airing on Radio 4 Extra. 7.30am - then on iPlayer
LIVE IN GLASGOW: Another big name at The Stand, as Kevin Bridges runs though some untested material both today and tomorrow, at the distinctly non-comedy time of 3pm.
LIVE IN LONDON: Some Friday Night Freaks are gathering at the Udderbelly on the South Bank, with a mix of burlesque performers and quirky comics including Frisky & Mannish, Lady Carol and Pat Cahill.
LIVE IN LONDON: Bridget Christie has put together a strong benefit bill at the Bloomsbury Theatre, raising funds for the fight against female genital mutilation. Compered by Daniel Kitson, it features Isy Suttie, Jo Brand, Stewart Lee and more.
Saturday July 5:
LIVE IN LEEDS: We recommend the Hyena Lounge tonight, where quality entertainment comes from angry Michael Legge and the much more placid Lloyd Langford and Peter Brush, a quirky newish act, all compered by the larger-than-life Jonathan Mayor.
Sunday July 6:
LIVE IN LONDON: Chortle's jam-packed Edinburgh showcase, Fast Fringe, comes to the Leicester Square Theatre, with Susan Calman introducing 28 comedy and variety acts in one ridiculously over-stuffed bill. Tickets.
Published: 29 Jun 2014
What do you think?