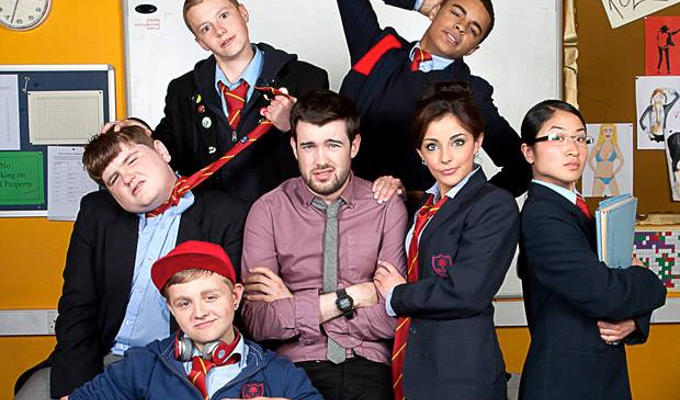 Save BBC Three: The fight is on
The threat was raised after corporation director general Tony Hall said the BBC needed to save another £100million a year after the government froze the licence fee and insisted it took on the running costs of the World Service.
Reaction to the possibility has been mixed on Twitter, but celebrities including Jack Whitehall and Matt Lucas have rallied to its support.
Whitehall, who wrote and starred in BBC Three comedy Bad Education, said: 'I really hope reports that the BBC may kill BBC Three are just rumours. Their support of new comedy in particular is vital!'
And Lucas, whose sketch show Little Britain started on BB Three, said the closure would be 'really bad for new comedy. Like, really bad.'
And he cited a string of comedy hits to have been developed on the channel over its 11-year history inlcuding Little Britain, Gavin & Stacey, Mighty Boosh, Pramface and Ideal.
Russell Kane, a regular face on the channel hosting such shows as Live At The Electric, said: 'If BBC Theree is really under threat, so is much of the UK's new comedy. This place is the crucible of upcoming comedic artists. Yet again, young people don't get a proper voice in the cutbacks.'
And Inbetweeners co-creator Iain Morris said: 'I think Our War alone is a good enough reason to keep BBC Three. (there are many other reasons, especially comedy).'
And Adrian Poynton, whose sitcom White Van Man aired on the channel, said: 'It's very easy to write it off as the youth channel, but BBC Three is such an important showground for new comedy writing and performers.'
But as well as its creative highlights the channel has been criticised for some of its output. For every Nighty Nighty or Pulling there is a F*** Off, I'm A Hairy Woman, a Danny Dyer: I believe in UFOs – and nine series of Two Pints Of Lager And A Packet Of Crisps
The BBC say no decisions have been made but that 'nothing is off the table'.
One option is reportedly to move BBC Three to online only.
Previously a vocal campaign saved BBC 6 Music, after it was earmarked for closure.
Published: 5 Mar 2014
Some leading comedy names have joined a campaign to save BBC Three, after it was suggested it be axed to make cuts.
Recent News
What do you think?