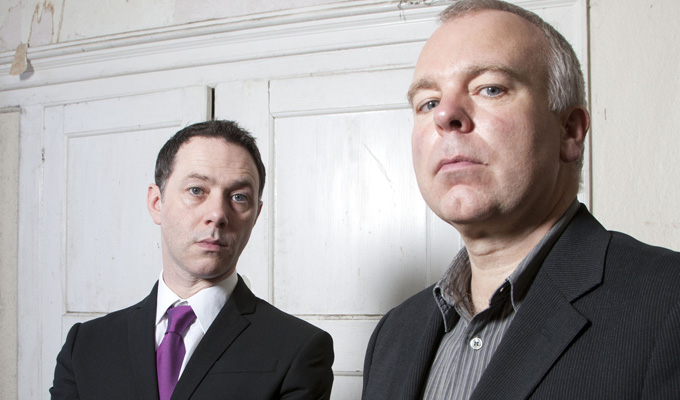 BBC orders second series of Inside No 9
The BBC has ordered a second series of Inside No 9 – the new comedy from Reece Shearsmith and Steve Pemberton – before the first has even aired.
The first six episodes of the show, each featuring different characters who live at a house number 9, starts on BBC Two on February 5.
But so confident are corporation bosses that it will be a success, that they have already ordered another six episodes from The League Of Gentlemen and Psychoville duo.
Shearsmith confirmed the commission in an interview with Chortle.
'There's a few things which I'm doing,' he said. 'We have now got a second series of No 9. We've got to get the scripts going because I think we film them at the end of autumn, so we want to make sure that they're good and ready.
'You want to set yourself a bar quite high where you can look back at the first series and think, "Oh god these are really good, we'd better carry on and top them again". We've got to get our thinking caps on again.'
Shearsmith and Pemberton recently spoke of how the BBC approached them about making more League of Gentlemen episodes.
However, they declined because of the way they were approached following the sketches they performed at a West End charity benefit late last year.
'Conspicuously on the back of the interest in the fact that we were doing those charity sketches together, the BBC asked us, 'Would you like to do some more League of Gentlemen?'" Sheersmith told Digital Spy. ;We said no - not that way round. Not if the only reason is that you [now] think people might be interested."
However he said the quartet – also including Mark Gatiss and writer Jeremy Dyson – were keen to do something else together, but 'maybe not Royston Vasey'.
Guest stars in the first series of Inside No 9 include Julia Davis, Tamsin Greig, Katherine Parkinson and Tim Key. Episodes include one set in a cupboard where engagement party guests are playing sardines, a silent farce about two inept burglars and one set in an actor's blood-soaked dressing room.
Here's a trailer:
Published: 29 Jan 2014
What do you think?