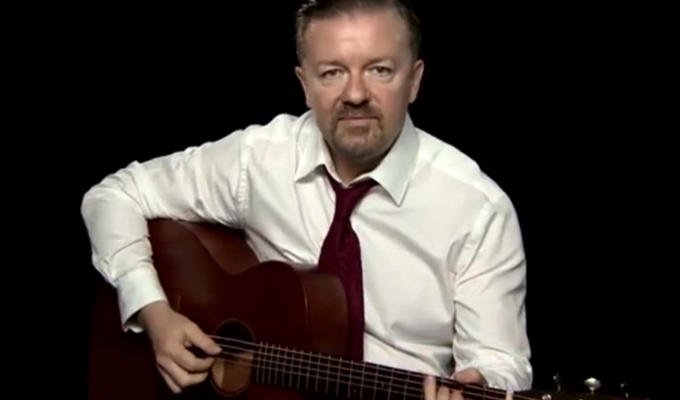 David Brent: The album?
Ricky Gervais says he has been bombarded with offers to release a David Brent album.
The comic says record labels have been lining up from across the world since he started releasing songs online in his Learn Guitar with David Brent.
Brent has a catalogue of songs already, with titles such as Life on the Road, Ooh La La, Spaceman Came Down, Free Love Freeway and Ain't No Trouble.
The first in his 'learn guitar' videos has attracted 1.2million viewers in the last month; last week's has 240,000.
Gervais said: 'I can't believe I'm now getting ridiculous offers from major record deals all over the world for a David Brent album.  Where were these people when I was trying to be a real popster? And starving?
'It's been so much fun bringing back David Brent and have him philosophise on YouTube, and spend all his hard earned repping money on still trying to become a pop star. It's funny and sadly true of today's x factor culture."
His latest YouTube track is called Slough:
Published: 29 Jul 2013
What do you think?