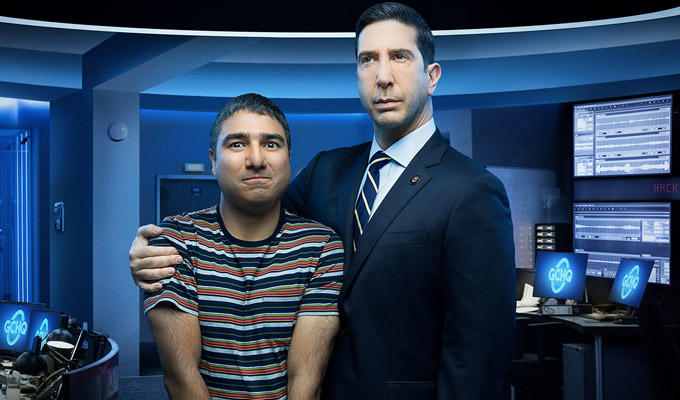 As soon as they heard about this comedy, GCHQ spooks got in touch...
Later this month Nick Mohammed is to appear opposite David Schwimmer in a new Sky One comedy, Intelligence, set in the GCHQ eavesdropping centre. Here Mohammed, who wrote the series, and Friends star Schwimmer give us the lowdown on what to expect from the series…
---
Nick Mohammed: It's set in GCHQ, which is the less glamorous side of spying I suppose. If MI5 and MI6 are quite James Bond-y and quite action-y, GCHQ is a lot of sitting at your desk, looking at computers, analysing data.
It's a public office, so it's like a civil service job really: quite bureaucratic, a really big organisation and mostly based in Cheltenham in a huge building.
Our series focuses on this Cyber Security Department. They have this NSA agent who comes in to act as an NSA liaison. He ends up massively shaking things up with his more maverick approach to the work. David plays Jerry, the NSA agent. I play Joseph, quite a junior, low-ranking analyst within that team of people.
I guess it's almost a bit like a buddy movie. I'm possibly the only character who's properly incompetent. I buy into a lot of Jerry's bullshit. I almost idolise him, like a big brother.
David and I had worked together on a pilot that I had written with Julia Davis [Morning Has Broken]. Sadly the show never went to series, but David and I had stayed in touch. I had this idea about an NSA agent coming into a British institution like GCHQ and shaking things up. I got the commission, so I wrote this up and sent it to David…
David: The initial email was just an outline of what Nick envisioned the show being. I thought it was a really funny and original idea and I was just excited about working with Nick.
My character Jerry is an alpha — a conservative, unknowingly racist, sexist and homophobic, ignorant, pompous guy. He's very pro-USA, USA is number one in every aspect, he's very proud.
He's not incredibly intelligent but he's got a lot of charisma, and a lot of self-belief, which as we know can be seductive. He's very gifted at talking his way up the ranks. He's a politician, actually.
It's revealed throughout the series what his real back story is, but let's just say he's here for a reason other than he claims. Basically he's gotten himself in to some pretty hot water by doing some nefarious work at the NSA.
So coming to an exotic place like Cheltenham is, for him, an opportunity to rebuild his image and his confidence. No one knows him, so he can create a story of who he is.
Nick: He's got a personality which is naturally brash, overconfident and quite arrogant. Occasionally he's quite rude but he does have a heart as well. There's always a reason behind what he says, even if the logic is skewed.
David: It's now been a year and a half that we've been working with these characters. Initially, I felt in playing him that it was just surface – he was this brash, American jerk. We were looking for a more human and vulnerable side to him and that's I think we found it, now, in his backstory.
It's not that fun to just play a one-dimensional character like that but also it's not as interesting or sympathetic, so we wanted him to be more complex.
I think Joseph, Nick's character, as well is quite complex - on the surface you can just say he's a numbskull but he's more than that. He's got a romantic interest growing and a lot more going on with him. So hopefully you'll feel that there's something more going on with Jerry and he's actually covering up a huge amount of pain and insecurity.
Nick: Some of it is like the real GCHQ: GCHQ got in contact with us. The NSA got in contact with your people, didn't they?
David: Yes
Nick: GCHQ phoned, in a very friendly way, just saying they're interested in the show and, 'How can we help you in any way?' Obviously, there's an element of, 'We just want to know how we're being portrayed,' but we sat down with a representative from GCHQ and they were really wonderful, actually.
We were hoping to visit but we couldn't in the end because of various security things, but it was so fascinating talking to them about the reality of what they're doing.
The national security thing is obviously a really great backdrop for a sitcom because you can have high stakes set against, "It's Elaine's birthday. Do you mind signing this card?" kind of thing.
That's the base note of the show, really. All that human side is still ongoing despite the high-level stuff these people are having to deal with on a daily basis.
Obviously we don't want to dwell on things like atrocities because it's a comedy. Without it ever getting too bleak or dark, we just try and find the lighter moments within that. We do occasionally reference real or semi-real events and crises, but it's played in the background quite a lot. The humour comes from the social interactions of these people
David: Apparently, GCHQ has a choir! There are auditions for the choir.
We found out so much interesting stuff that informed the show. There's no dress code, so people are in cargo shorts and flip flops and other people come in full military dress. There are people from all over the world that are working there in every possible attire, and there are kids with hoodies. It's a very interesting environment. Really ripe for story.
Nick: The more you look into it, the more you think, 'God, this is incredible,' and a really rich area for drama and comedy. It's the same as if you were writing something about The Magic Circle, which I've written about before: because it is a bit of a closed shop you have real artistic license to play with.
On Mondays, GCHQ have Military Monday, so anyone who's military dresses up in their full outfit. You think, 'We could put that in the show,' but maybe people would think we made it up for sitcom purposes.
It's a massive institution. The Doughnut in Cheltenham [GCHQ headquarters], employs 6000 people, and we're focusing on a group of basically five to eight people. We're a small cog in a big wheel. There is absolutely a hierarchy and we all have to do our jobs, and everyone reports to the big boss who reports to her boss and so on, so forth
David: We're trying to really enjoy and illustrate the difference between an American like this and a Brit. For instance, he's very physical. He is in your space and owns your space. That's partly a very American male thing to do in this power position, but it's also a passive-aggressive way of asserting his power and control over you.
Intelligence starts on Sky One on February 21.
Published: 4 Feb 2020