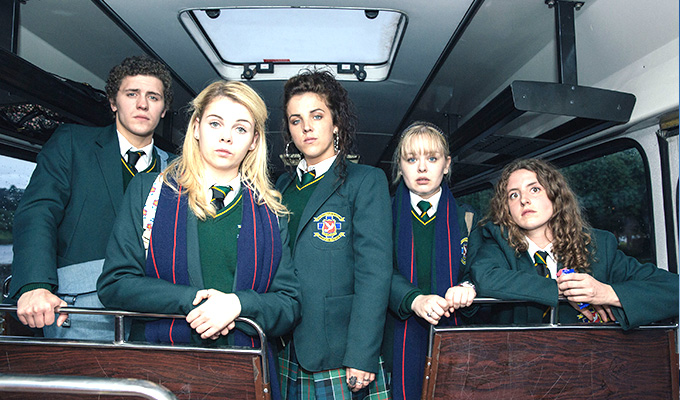 Northern Ireland during The Troubles? It was brilliant
Tell us about your new series Derry Girls…
It's my experience of growing up in the 1990s in Derry, pre-ceasefire. When I moved to London, it only slowly dawned on me that those circumstances were unusual.
Then it occurred to me that that's because teenagers everywhere are the same – no matter what is going on around them, there is a selfishness to being a teenager I think. There are things they all have in common – their families frustrate them, their friends embarrass them, the boy they like doesn't know they exist – and I thought there was something nice about how universal that is.
As well as the idea that that was all going on while there was an army still patrolling, and there were still bombs going off, I thought that could be interesting, and comical, with the mundane day-to-day stuff of normality going on in the midst of it all. And then, in a simpler way, it's about a working class family, and about a group of friends and the scrapes they get themselves into.
Why did you want to write this, and why now?
I didn't have the opportunity before. To write something like this, you need to be supported, and [executive producers] Liz Lewin and Caroline Leddy really gave me the confidence that other people might be interested in a show like this. Channel 4 were brave enough to make it.
But also there's enough distance now – it's 20 years since the Good Friday Agreement, the ceasefire was '94 – there's enough time passed that you can look back on those things with a bit of distance. That's a good thing, I think.
When you're writing something this personal is it easier, or harder, because you've lived through it?
I find the characters and the jokes and the dialogue easier, because it's so rich, that Northern Irish dialogue, and the words we have for things – it lends itself to comedy really well.
What's hard is the half-hour structure, because I love plot-driven comedy. It's also a big cast, so to get everyone having a story, and for all of those stories to work structurally can be quite challenging, even though it should be simpler than writing something like a big thriller. But in terms of the people, it comes to me very naturally, and I sort of know versions of them all.
Everyone has this idea of how grim life must have been pre-ceasefire, in places like Derry. What was the reality like for you?
Terrible things did happen, but there have been a lot of TV programmes and movies made about those things.
It was brilliant – it sounds weird to say it, but I didn't really realise that it was this terrible place. I knew these things happened, and I knew there were some places you couldn't go, so there was awareness on that level that this was going on, but there was just an innocence about it as well, and a real sense of community.
For me it was a brilliant place to live and grow up, and that's what I wanted to show. And that's something that's never been shown, I don't think. I used to say, when I started writing, that I'd never write anything set during The Troubles, because I'd had enough of how where I'm from was presented. And then I just thought, 'someone needs to show the other side of it – that these people are funny. You never got to see that side of Northern Ireland.'
Do you think The Troubles brought your community closer together?
I think people definitely looked out for each other – but this isn't necessarily to do with The Troubles, I think in poorer communities people look out for each other and rely on each other a bit more, because they have to.
Derry's not a wealthy place, even still, and a lot of people have it very tough. But there was a real sense of people pulling together, and that was good.
What sort of a teenager were you?
I was sort of like Erin, the main character in the show. I was involved in a lot of drama clubs and thought I was better than I actually was. So of all the characters, I was probably the most like her. Probably a bit annoying!
Presumably the teenage you would be pretty thrilled to discover the grown up you writes your own TV shows?
Yeah. That's the thing, in the show she wants to be a writer as well. I was always writing stupid plays and forcing my friends to be in them.
The series is really dominated by strong women – was there a matriarchal element to life in Derry?
Yes it's a place run completely by women, it always has been. There are various theories why that might have been the case. There were high levels of unemployment, and it was a shirt factory town, so women were working and men would have watched children – a bit of role reversal - some people think it's a hangover from that.
But any sort of authority figure in my life tended to be a woman. It never occurred to me that a woman couldn't be anything she wanted until I got older and moved away. I went to a school that was run by women, and it was an all-girls school. The sports stars were girls, the funniest person in class was a girl, all those roles that often go to boys were filled by girls, so it never occurs to you that you shouldn't speak out or do what you want. There were positive things about going to convent school!
Has making this series made you feel nostalgic for your life back then?
Oh God, hugely so. I think everyone gets a bit like that sometimes – it's life before it got complicated. The innocence of it all, the excitement of not knowing what you were going to do or who you're going to be when you grow up. And then, just on a really stupid level, the music.
What's Derry like now?
It's great. There's a lot more to do there than when I grew up. But the spirit of it is exactly the same, everyone knowing everything about everybody.
One thing my husband finds funny is if you go into any shop he just thought they all knew me. It's just the way they speak to you. We were doing Christmas shopping, and the woman at the till said to me: 'Have you got everything in?' And then she told me what she still had to get, and used first names for everyone she had to buy for, and he assumed I knew her, but I explained that I'd just met her and that's how people talk in Derry So shopping can take a long time!
• Derry Girls starts on Channel 4 on January 2. Interview courtesy C4 Press
Published: 4 Dec 2017
What do you think?