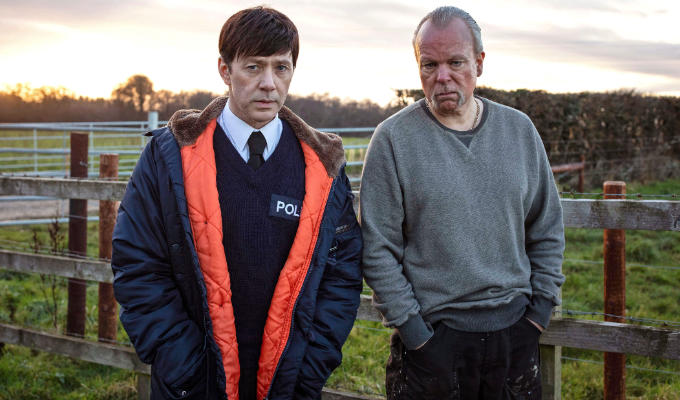 Steve Pemberton and Reece Shearsmith on the return of Inside No 9
Like many TV shows, production on the new sixth series of Inside No 9 was thrown into chaos when Covid hit.
But unlike many TV shows, creators Reece Shearsmith and Steve Pemberton had a Plan B. Safe in the knowledge they already had another series commissioned, so they hunkered down - via Zoom - and started writing more episodes.
'We were frustrated, obviously, Pemberton says as he recalls filming being halted soon after it began in March last year.
'But we mothballed the set, we mothballed the costumes - and the actors! - and said, "Look, we'll pick that up when we can". And in the meantime, we could crack on with the writing of series seven.'
That meant they had extra episodes to choose from when filming resumed. 'It's become a mix-and-match of season six and season seven,' Shearsmith says. 'Season six is not the six episodes that we thought it was going to be; it includes some of the episodes we wrote in lockdown. And some of season six will become season seven.
'We're really happy with the six that in the end that became series six. They're really good stories, I think.'
The pandemic also made them consider more 'Covid-friendly' scripts.
'We had written with slightly smaller casts, thinking that would be somehow a help,' Shearsmith said. 'We thought about writing one set outside, but I don't think we quite did that in the end.
'But even with two people [on screen], there are still 25 people stood around in normal times, though obviously with Covid they restricted to who could access the set.'
Over more than 30 episodes, the pair have become used to writing around problems that emerge - not least to try to keep filming costs down. An anthology series with a different set-up each time is not the cheapest way of making television.
And while producer Adam Tandy acknowledges 'You have to be creative about achieving what you need to achieve with the resources you have' – he pours cold water on the idea that small budgets spur inventive writing.
'I don't think it helps creativity,' he says with all the certainty of a man angling for a bigger budget.
'Occasionally I've gone too Reece and Steve said I'd like a really cheap episode and they come up with something like The Stakeout [with two police officers in their squad car], which was an amazing piece of work, but actually turned out to be quite expensive to make because of all the all-night shooting. So it works both ways.'
Inside No 9's creators are speaking at a virtual event to launch the new series, which starts on Monday and features the usual range of top-drawer guest stars, including Sian Clifford, Adrian Dunbar, Lindsay Duncan, Kevin Bishop, Nick Mohammed, Gemma Whelan and Sir Derek Jacobi.
But Shearsmith explains that they never have a particular actor in mind when they're writing as 'if you set your hopes on someone a year before you're going to approach them, they simply might not be free, and then you'd be forever heartbroken that you didn't get them. So we don't try to pin our hopes on someone.
'The only person we ever did have in mind in advance was when we were writing 12 Days Of Christine we thought Sheridan [Smith] would be a great Christine if she was free. We dared to think that that might work out, but you never know.'
Perhaps inevitably, given the pair's often dark sense of humour, the conversation veers towards questions of taste – and producer Tandy reveals the one scene he thinks might have crossed the line.
'The only time I've seriously thought we might have gone too far was the decapitation in Misdirection,' he admits. 'That decapitation with the guillotine felt to me like we could have gone too far.
'It's always a judgement call on the day as to how much gore you can have, how much you can push the idea of offending.
'We've had similar instances where taste has been an issue. But that's, that's probably the goriest moment we've done – and there's quite a lot of gore coming up!'
Pemberton thinks there are more sensitivities about matters of taste in Inside No 9 because the show is commissioned by the BBC's comedy department.
'Because it's coming out of a so-called comedy programme, I think there's a heightened awareness of that because we'd like to mix these genres up,' he says. 'You watch The Terror at 9pm, a whole hour before we were on, you'll see far, far worse things than what we do.
'So I don't think we've we've overstepped the mark, we're very, very cautious in how we approach that stuff.'
Certainly, that has not bothered the show's ever-growing army of dedicated fans. Quite the opposite, you'd suspect.
Having such a staunch cult following could, however, be a double-edged sword – a notion explored in the second episode in this new series – but Shearsmith is only positive about the devotees.
'We've always created worlds, and when you do that, you get people that, like science fiction fans, who just love to completely immerse themselves in that world,' he says.
'I love looking at all the fan art that people do in all the different alternative posters. It's lovely. It's like its own thing. It's become bigger than us.'
'We have dedicated fans who love it, I mean, love it, and are critical of it and, and want it to be the best it can be.
'It's hard now because we are fans of it ourselves. When we write, we try to think, "have we done this before?" and six series in with 30 stories behind us, we start to see the nuts and bolts of what we have and haven't done before.
'And we don't want to do the same story slightly diluted that we've done in a previous incarnation. So we're aware of that.
'We don't want to disappoint the people who love it. I think if we thought it's going thin now, we would stop it. Probably. We wouldn't want to allow it to wither on the vine.'
But that day is probably not imminent.
'In terms of an exit strategy for Inside No 9, we don't really know,' Pemberton says. 'As long as we feel we have got the ideas and we can creatively challenge ourselves with each new series, then we'll keep doing it.
'There's no other show on TV where people can get to explore this range of different ideas and genres, not only as an actor, but as a writer. So we feel very, very privileged to have the show.
'We didn't even know what it was when we started writing it, we just, collected these Six Stories together, and David Kerr, who directed them, did a brilliant job of making them all feel very different.
'I think each series that's gone on, we've thought, yeah, we can try throwing something completely new into the mix here and see how people react. And there's nothing more exciting than that in my view.'
Perhaps that's why anthology shows have enjoyed something of a renaissance since Inside No 9 first started in 2014, and Black Mirror before it.
'Maybe it's a reaction to the long commitment that you have to have when you watch all the other shows on TV that are 20 episodes a season,' Shearsmith also theorises.
'So to have one tiny hit with a very good story, it's like being told a funny joke: you're in and out, and you have a great ending.
'Hopefully, it's been satisfying, and there's a lot of storytelling in our episodes. I think you feel like you've been on a bigger journey than you have in 28 minutes. And that's good because you've only used half an hour of your life rather than a day to watch the whole thing. That's the appeal of it, I think.'
That might be to downplay the vision he and Pemberton have brought to their show – and why it has outlasted many other anthologies.
When pushed, Shearsmith does acknowledge: 'It might be that No 9 has had legs because it has been curated and written by just two people.
'So that's given it a consistency, despite the fact that we try very hard each week to make it very different. There is a theme across it, which is me and Steve.
'That's a different anthology series to another version, where you've got a different writer each week. That could be great if they're all great writers, but also it might be all over the place and not as successful maybe.'
That said, they suggest that the fact they bring in a range of guest stars also helps longevity. 'Of it was the pair of us doing two-handers week in week out, I'm not sure it would have got to series six,' Pemberton says.
Let alone that seventh, already partially written…
• Inside No 9 returns to BBC Two at 9.30pm on Monday with an episode that mixes heist thriller and commedia dell'arte, entitled Wuthering Heist.
Published: 7 May 2021
What do you think?