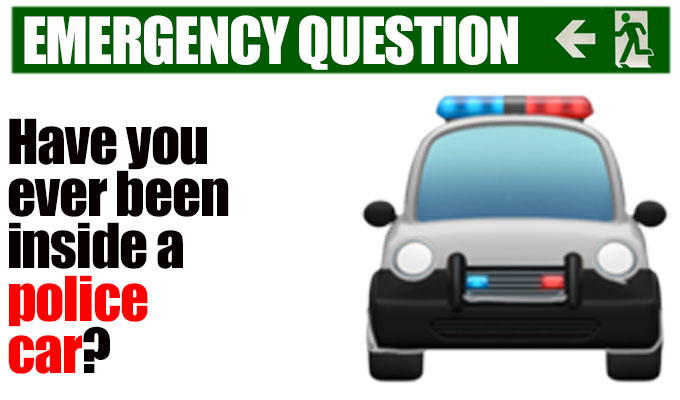 Have you ever been inside a police car?
Does the Ghostbusters ride at a theme park count? If so, yes. Lucy Farrett: Lois, Underbelly, 17:00
I have. Got my face punched up when I was 15 years old and had braces on so I looked like Jackson Pollock and Pablo Picasso collaborated, and the po-po hate that kind of art. Eric Lampaert, Borne Of Chaos, The Counting House, 16:15
I once sat in the back of a police car after my phone was snatched out of my hand in broad daylight by a little rat on a bike. I was then driven around the area with the cops asking me to point the suspect out. In Between the search, we had some smalltalk naturally, and when I said I was an actor then asked me if he would know me from anything. I explained that I was a voice in a cartoon that turned out to be his child's favourite show, so he got me to sign the back of the police pad he used to write my description of the thief on. A slightly surreal moment shall we say. Naomi McDonald, Copycat, Just The Tonic, 20:50
I used to train police officers, so yes! I helped out by doing simulated crimes (actual job), so I've been fake arrested 30-40 times. The bit where they bang your head on the car roof is real, though. John Robertson, The Dark Room, Gilded Balloon, 21:15
I was 17. Me and a friend spray-painted a wall in American-style graffiti. We were supposed to write 'Crime' but instead wrote 'Crim' because we misjudged the width of the wall. As he drove us to the station, the policeman told me I would never make a career criminal as I'd kept the receipts for the spray cans he confiscated. Matt Price:Broken Hooters and Geezers with Shooters, Underbelly, 18:50
My Dad was a cop and he used to pick us up from school in one. He would handcuff us and put us in the paddywagon while the other children watched with horror. Brodi Snook, Handful, Gilded Balloon, 20:15
Only while playing GTA on my PS2. I, Tom Mayhew, The Mash House , 19:30
When I was a kid growing up in Canberra, my brother Ken (aged ten) and I (aged nine) snuck out at 2am and went roaming the streets, just for the thrill of it. Some cops picked us up, put us in the back of the car and drove us home to wake up my bewildered parents. We got in a lot of trouble, but it was worth it because while we were in the back of the car Ken had farted in one of the policemen's hats. Nick Elleray, Big Nick Energy, The Counting House, 12:45
Yeah, getting picked up a lot lately for being illegal levels chic. Cam Spence: The Sunshine Clinic, Pleasance, 16:30
Yes I got arrested once, my friend was being arrested for buying a hotdog from an apparently illegal vendor (so for nothing) and I kicked off and when they arrested him, roughly, anyway I said 'What are you trying to make up for' and held up my little finger and did a sad face. So then they arrested me too. Jessica Fostekew, Hench, Monkey Barrel, 13:30
Yes, twice. The time when I was guilty I had a way more pleasurable experience. Radu Isac: Good Excuses for Sociopaths, Just the Tonic, 20:30
Published: 8 Aug 2019
What do you think?