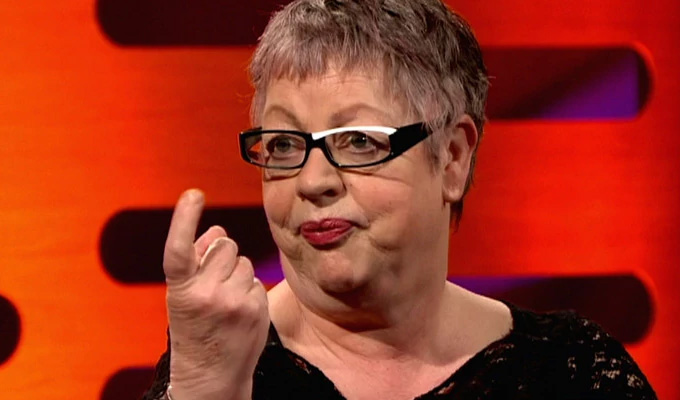 Jo Brand shocker: 'I don't really like cake'
She's built her career on her love of cakes, from her breakthrough TV series Through The Cakehole to being host of Bake Off: Extra Slice.
But Jo Brand has a confession to make: she doesn't actually enjoy cakes.
'I like bread, really; I don't really like cake,' she revealed in conversation at the British Film Institute in London this week.
She told interviewer John Lloyd that she only feigned a love of sweet treats to highlight a reality barely acknowledge on screen.
'You watch these ads where people eat cake, and they were always thin,' she said. 'It just annoyed me that fat people weren't allowed to say they liked cake. It was a reaction to that.'
And it's not the only time she's done something as a reaction to received opinion.
'Women have been the butt of bad driving jokes for years, so I got my international drivers' licence just so I could put two fingers up,' she said, making the gesture vigorously.
Although Brand acknowledged that such conceptions were changing in society, she cautioned against assuming a liberal consensus.
Lloyd, the veteran producer of the likes of QI and Blackadder, argued that things had changed by repeating a racist gag the avuncular Roy Hudd used to tell during the warm-up for the News Huddlines: 'Why are there no Pakistanis in Norwich? Because the Chinese have discovered they taste like chicken.' The line that once entertained the mainstream Radio 2 audience was greeted with a stunned, awkward silence at the BFI.
But Brand warned that reaction may not be typical: 'People who live in big metropolitan areas like London tend to get complacent about what's going on outside. There are still venues like the Circus Tavern [in Essex] where they book very traditional comedians.'
And she played down the idea that comedy can change things, despite coming to fame as part of the second wave of the alternative comedy movement of left-wing stars
'If you're a comic and think that, you have to be ever so careful,' she said, cautioning that many stand-ups ended up becoming too political in the belief they were changing the world. 'If it's not funny, it's not worth doing,' she warned them.
Brand also suggested some comedians' progressive views were merely a facade. 'There's a substantial majority of people at a certain level who suppressed that side of themselves, and when in the right atmosphere would do misogynistic jokes,' she said.
The comedian also revealed some of her personal experiences of sexism and even sexual abuse in her job, with vivid descriptions and some uncompromising language.
She recalled one advertising industry awards do, where she 'mildly' mocked one company for scooping the lions' share of the accolades.
But she recalled that when the chief executive came up to collect the last gong of the night, he whispered to her, off-mic: 'I always knew you were a shit comic but I didn't realise what a cunt you are.'
But Brand had her revenge. 'At the end of the night I said, "Thanks to everyone, except this guy," and I told everybody what he just said.
'Women are cowed into not doing anything about this sort of stuff. People do say the most appalling things to women.'
She recalled a gig when someone told fellow comic Julie Balloo as she walked on to the stage – and at a volume that couldn't be heard by most of the audience: 'I can smell your cunt.'
'That is so intimidating,' Brand said.; 'He does it in the belief new will not tell anyone. This sort of thing happens all the time; it beggars belief. I try really hard these days not to keep quiet.'
One moment in her past when she didn't say anything came at an annual charity day with bankers at Canary Wharf, where celebrities take part in the trading.
'They are all quite pissed by 10.30am,' Brand said. 'This guy came up to me, one of the traders, and said £20 for a kiss. And he put his tongue in my mouth. It was horrible and I didn't say anything because it would ruin the day and I was worried no one would believe me.'
Not all the heckling can be ascribed to sexism, but Brand seems to have more than her fair share. She even recalled a man shouting at her during her first TV appearance, on Channel 4's Friday Night Live, which came just two years into her career.
But because it was a live show and producers were very strict on timing, she did not engage with him.
'Seven or eight years later I met him,' Brand said. 'He was a local TV producer in Southampton. He'd just been sacked and decided he wanted to disrupt a show.'
'I realise a proportion the population are going to hate me,' she admitted. 'But I don't particularly want to upset people and I try not to.'
Indeed, Lloyd said in person he had only ever seen the public respond to her warmly, adding that the only other comedian he knew to get such an overwhelmingly positive reaction was Lenny Henry.
One person Brand did confess to offending was Frank Bough – the TV apparently family-friendly TV presenter whose career crashed after it was revealed he took cocaine and wore lingerie at sex parties.
The pair clashed in a 1993 episode of Have I Got News For You – where Bough was apparently unaware what to expect.
'In the green room Ian Hislop said to him, "It's really brave of you to come on" and Frank said, "What do you mean?",' Brand recalled. 'I didn't know he was going on thinking, "they won't mention that…"
She also clashed with Trinny Woodall and Susannah Constantine on What Not To Wear – a programme she agreed to appear on because she felt the fashionistas 'bullied their subjects who don't have the confidence to give them a verbal kicking' – and she wanted to challenge them.
But when she did hit back about a cruel sketch they did at her expense, the cameraman said his battery had died and he didn't capture her diatribe. Brand demanded to see the executive producer, but her patronising response was just to ask the incredulous comic: 'Do you want a lie down?'
Speaking of reality TV, Brand also reveals that she's been asked to do Strictly Come Dancing 'quite a few times' but always turns them down.
'I love dancing,' she said. 'If I wasn't 61 I'd probably do it. If I was 45 I would. Now I'm probably at the stage where I would be fired out of a cannon or dragged along the floor by Anton Du Beke I'd like to try proper dancing but I'd probably have a stroke.'
Brand also recalled her early years in comedy when her dad – who died in February this year – didn't understand the concept of stand-up. She recalled him asking what she wore when she performed.
'I just wear what I normally wear,' she told him.
'Don't you wear a hat?' was his puzzled reply.
She also told a rarely-heard anecdote about Malcolm Hardee, the 'godfather of alternative comedy' known for his mad, drunken, escapades for which he never considered the consequences.
Brand recalled the time they travelled to Montreal's prestigious Just For Laughs festival together, which was going to celebrate a giant of comedy.
'George Burns was there and there was this big reception party for him,' Brand recalled. But as the guests assembled, 'Malcolm stood on a table and told everyone that George Burns had died on the way. People were weeping.'
Published: 29 Nov 2018
What do you think?