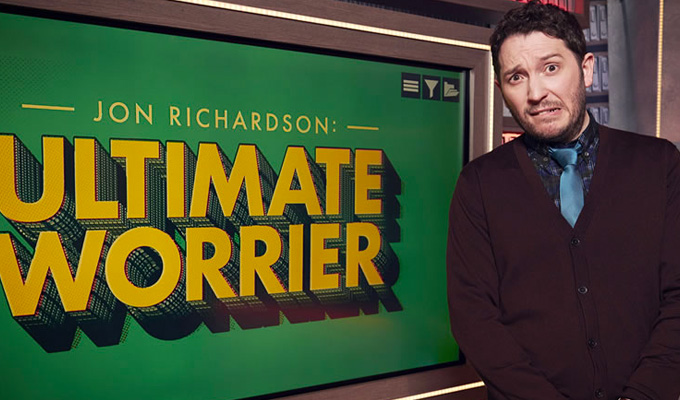 'Lucky Wiggle seems to have some sort of depression issue'
Who is the worst worrier you know?
That's a matter of opinion on whether you consider worst worrier to be the person who worries the most or least. Personally, I consider worrying to be a skill, so the worst worrier would be the person who doesn't do it. The worst worrier we had on the show was Rob Beckett, who as it turns out, doesn't worry about anything, which is unacceptable.
And the best worrier I know, is probably my mum, who taught me everything I know about worrying about things, and now has me as a son to worry about. So, she's really Premier League.
What is your ultimate worry of the series?
The worry that has stayed with me from the series, is definitely Lucy [Beaumont], my wife, who came on and told me that she was worried she'd made a terrible mistake in marrying me. And, that's something that we're seeing a qualified professional about on a weekly basis.
Rank the following worries from low to high priority: walking under ladders, missing a flight, or eating a Kit-Kat without breaking the segments off.
I would say walking under ladders is a low worry, because that's a good thing to worry about. There's a reason we worry about walking under ladders and that's because there's somebody up there with a paint can, so I think that's a normal thing to worry about.
Missing a flight, I think is obviously a big deal but, it's probably your fault and so that really is only amber because you should have just set off earlier.
Eating a Kit-Kat without breaking it into separate fingers. It's such a huge problem because it just suggests to that you don't understand food or maths. You really need to have a long hard look at your life I think. So that is a red worry.
What would your biggest worry be if you were Donald Trump?
I think amazingly, given that he is one of the most powerful people in the planet, he is one of the few people that just doesn't worry about anything, because I think the minute any shred of self-awareness or self-doubt crept into his existence, he would just crumble.
You can't look like that for a start, without worrying that you don't look ridiculous. I mean, he clearly looks in the mirror every morning, gives himself a thumbs-up and gets on with his life, which is a real problem for the world.
What would be my biggest worry if I were a Dave commissioner?
I guess it's just how we improve on perfection for if we get a series 2 of Ultimate Worrier and how we deal with changing the name of the channel from Dave to Jon, which is going to take some work, but there will be demand for it when the series comes out.
If I were Matt Forde?
suppose would be that the tumultuous political times we live in would come to an end and everything would sort of plateau and things would be okay and there wouldn't be any satire and he would have to go back to dressing as Alan Partridge for a living and hosting speed dating night in Nottingham. If you didn't know he did that, then do ask him about it in the street.
If I were Josh Widdicombe…
I guess my biggest worry, if I were Josh Widdicombe, would be now that he has a child, how he's going to explain to that child why he has Greg Davies's name tattooed on his foot. Because I'm sure it was funny at the time and it was certainly funny on television, but good luck dealing with the withering look of disappointment in your child's eye when you have to explain the lengths you went to, to win a TV show.
If I were Russell Howard…
I think my biggest worry would be just how to properly thank me for the many things I taught him in the year we lived together. Just the life lessons about storage of teaspoons and personal hygiene… just a lot really. I think I really sculpted that man and I think.
He's yet to send me anything, I think of significant financial or emotional value to thank me for the work, but I assume he just can't work out what that thing would be.
What would someone be worried about if they were considering having a baby?
The headspace that is taken up by children's songs. I'm currently dealing with a Wiggles addiction. I go to bed singing 'Who's in the Wiggle house?'. As we all know, Anthony's in the Wiggle house eating fruit salad all day. That was funny the first time I heard it but now I'm ready to move on from Anthony eating fruit salad.
I know Emma's putting all her bows away, and Simon's playing 'Simon says' and Lucky's just asleep. Lucky Wiggle seems to have some sort of depression issue, he seems to be asleep most of the time in the house, it's never really dealt with, so yeah. If you're considering having a baby I would say your life, in terms of watching TV you want, is over.
If someone were considering buying a house…
If you're considering buying a house, I would say you have less to worry about that most people because this country is broken and if you're in a position to buy a house then congratulations to you. I hope everything goes well and I hope you live happily in the house forever and I hope you take on a number of tenants because there aren't enough houses.
If someone were considering being a comedian…
They would need to worry about me, because I'll follow you and I would just try to put you off really. There's enough comedians, it's hard enough getting work. Just back off, do something else. Go into politics – the world's broken, try to fix something. Don't be a clown for a living, just let me do it – I'm doing fine, leave me alone.
If someone were considering getting a new job…
I suppose they would have to worry about why they lost their old job, or were let go.
I don't think I've ever left a job of my own accord. Looking back, I think I've been sent away from most of my jobs, starting with the fish and chip restaurant on Morecambe promenade, among the least two successful days of my working career and I was delighted to leave. So thanks for firing me because I was leaving anyway!
• Jon Richardson: Ultimate Worrier starts on Wednesday May 16 10pm on Dave The full series will be available on UKTV Play after episode one has aired.
Published: 6 May 2018
What do you think?