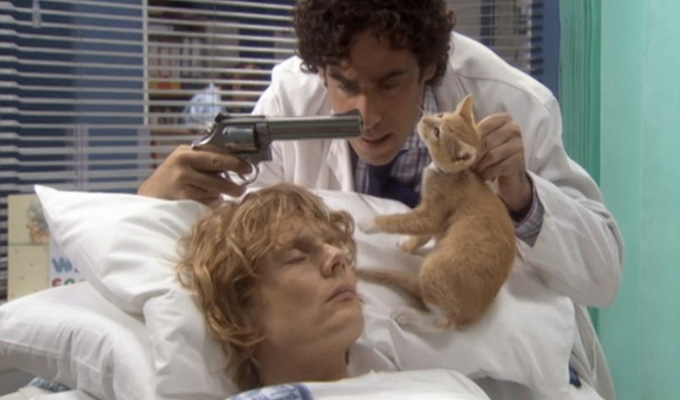 What was the name of the hospital in Green Wing?
Test your comedy knowledge with our weekly trivia quiz - compiled, as always by broadcaster and comedy historian Hayden Parker. Good luck!
1. For how many weeks did
Ken Dodd
perform his show consecutively at the London Palladium, 26, 42 or 58?
2. Who has been announced as the voice of zazU in the live action version of Disney's The Lion King?
3. Daisy Steiner and Tim Bisley were characters in which comedy series?
4. Green Wing, pictured was set in which fictional hospital?
5. How many characters did Peter Sellers play in the film Dr. Strangelove?
6. Comedian Lee Ridley is better known by what name?
7. In the film Airplane!, what was the name of the inflatable pilot?
8. Jimmy Carr was a marketing executive for which oil company?
9. Former Prime Minister David Cameron chose which novelty comedy song as one of his Desert Island Discs?
10. Jim Tavaré used to use which instrument as part of his stand up routine?
• How did you get on? The answers are here
Published: 12 Sep 2017
Recent Features
What do you think?