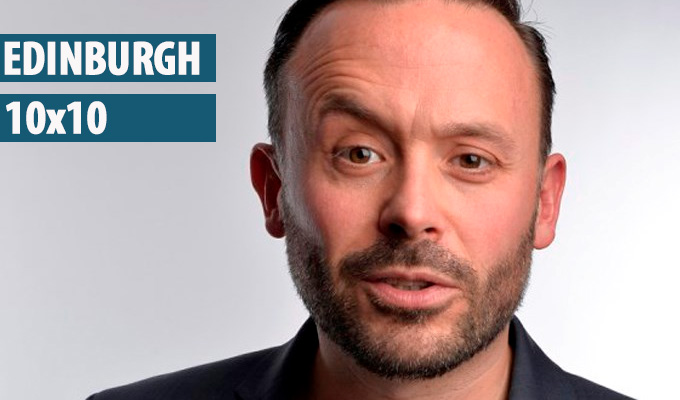 Edinburgh 10x10: 4. A nation divided
After the Brexit vote, Britain is more divided than ever before. And while the comedy scene might be 98 per cent left-wing, out-of-touch, liberal, metropolitan elite, there is some space on the Fringe for reactionary right-wingers too… Here's ten comics from across the spectrum:
On the right…
One of the few comedians to come out as both a Tory and a Leave voter, Geoff Norcott's unusual position has landed him slots on the likes of Question Time and the Daily Politics. In Right-Leaning, But Well-Meaning, he considers the reputation for xenophobia, sexism and selfishness that's associated with the right, and wonders if that is an intrinsic part of being on his side of the fence, even though he strives to be one of the good guys.
Underbelly George Square, 18:40
When Lawrence launched his online rant about immigration and the cosy coterie of comedians and 'women-posing-as-comedians' making easy jokes at Ukip's expense in 2014, many of his colleagues feared for his state of mind. But given the referendum result, it seems he was speaking for a lot of people… so was it a canny career move to lash out at political correctness and the march of progress? His Happy Accident Tour visits the Fringe for 11 dates from August 3.
Assembly Rooms, 21:30
Leo Kearse is best known for his puns, and even scooped the Dave UK Pun Championship a couple of years back. But it also turns out he's been harbouring some political views that betray his Scottish upbringing and hippy parents.
His Fringe show, I Can Make You Tory, is described as a 'primal bellow from a Trump-supporting straight white male that strikes a chord with the silent majority' and comes with the promise that he will 'slaughter liberal sacred cows'.
Laughing Horse @ The Free Sisters, 19:30
Simon Evans isn't quite an 'out' big-C Conservative, but he's admitted that 'in the metropolitan, left-leaning mainstream comedy landscape, I don't quite conform' – and his slightly out-of touch persona would appear to be happier in an earlier decade, which very much speaks beyond the usual liberal outlook. He's even done Radio 4 shows about capitalism. Not that his 2017 show appears political; it's about a subject closer to his heart: isn't it time he was considered a Bona Fide genius?
Assembly George Square Studios, 20:20
And on the Left…
Many more comedians to choose from in this sub-category, but let's focus on those who wear their (bleeding) heart on their sleeve…
A list of leftie comics can surely start in no other way. Mark Thomas follows on from Manifesto, where he took ideas on making the world a better place, with this show inspired by the very unpredictable nature of modern politics.
Predictable: A Show That Gambles On The Future asks the audience to gaze into their crystal balls to envision what is in store for the future of the world.
Summerhall, 18:00
It's billed as comedy perfect for those who 'love the NHS, libraries, kindness and joy'. Hard to argue with any of that, though the fact this long-standing political comic has also trailed the show as 'an hour of Tory' smashing shows the direction of approach.
Banshee Labyrinth 15:30
Some of his harsher lines might prove troublesome for the liberal intelligentsia, especially in his Mock The Week days when he focussed his destructive wit on hapeless celebs. But as he's increasingly setting his keen sight on political targets, his brand of bitter nihilism seems an apt response to a world going to hell.
Venue 150 at EICC, 21:20, August 5-9 and 20-24 only
And now to a man who's supported Boyle on tour. Possibly the only comedian to have identified as a communist, Joe Wells considers the old adage that the older you get, the more right-wing you become in I Hope I Die Before I Start Voting Conservative. Can he grow up without selling out his political ideals?
Sneaky Pete's. 12:05
And somewhere in between…
Expect plenty of bones of contention from this proudly Northern, working-class comedian. While his political views are firmly on the left of the economic spectrum, championing the rights of the poor, he has outspoken social views that'll be considered hugely controversial in the artsy Fringe and rub up against liberal sensibilities. He delivers with unshakable conviction and superheated energy, making him a powerful orator. Enough to overturn the prejudices of the cosy middle-classes? We'll have fun finding out.
Just the Tonic at The Caves, 23:00
This promising newcomer says she is tired of the conventions of both left and right, and seeks 'new ways to talk politics, class, race and identity.' Ambition aims for a debut hour, from a comedian who was a finalist in the BBC New Comedy Awards in 2015.
Underbelly Med Quad, 17:50
Published: 20 Jul 2017
What do you think?