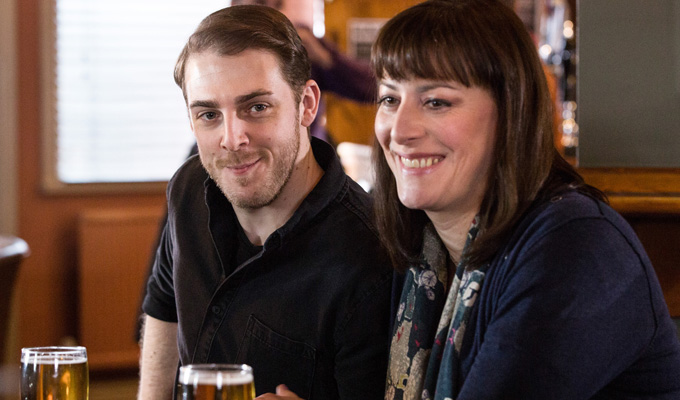 It's not the trans Terry And June...
'It's not that most people are mean, it's just that they don't know any trans people. And after this, everyone will feel like they know one.' So said Paris Lees, journalist and transgender rights activist, at a preview screening of BBC Two's new sitcom Boy Meets Girl at Bafta's London headquarters last noght.
The comedy was commissioned following a competition to find the best script that portrayed transgender characters in a positive light. But, as everyone involved was keen to point out, the finished product is not a box-ticking niche, but a broad comic love story between a young man, Leo, and an older woman called Judy – who happens to have been born with a penis.
'It's a romantic comedy about two families,' says Denise Welch, who plays Leo's overbearing mum, 'And one person happens to be transgender. It's not banging the drum, it's gently educating for those who don't know anything about the trans community. I just feel glad to be part of something funny, as there's so much shit on the telly.'
Writer Elliott Kerrigan agrees: 'I never thought this was about diversity, it's about the characters. They are like flesh and blood to me.I never though that this would just be good for one community.'
He even admitted to having done very little research into transgender issues before writing the script, saying: 'I read one book and watched one film – and they weren't even trans related!'
Still, some of the experience of lead actress Rebecca Root found their way into the script, such as her description of feeling 'like being in prison with no release date' in her earlier life.
Kerrigan entered the Trans Comedy Award, run by campaign group All About Trans, a couple of years ago after losing his job at Waterstones bookshop in Newcastle, where the series is set. The prize was £5,000, but executives at production company Tiger Aspect and the BBC were so impressed that they also developed the idea into a full series.
'This is my first TV job,' Kerrigan says.'It's changed my life. I knew no one in TV; I had very few friends at all.'
And his idea was ultimately given a prime-time BBC Two slot – 9.30pm on Thursdays, starting tomorrow.
'We wouldn't have got a half-nine slot in the schedules if it didn't do the business,' said BBC executive producer Kristian Smith. 'BBC Two is such a crowded place for comedy as everyone wants to be there, so it had to be brilliant.'
And asked if he feared there might be any backlash for the show being seen as a 'politically correct' manoeuvre, risky when the reactionary press are looking for any excuse to savage the Corporation, Smith said: 'I don't want to seem unduly cavalier, but it didn't seem like a risk.It's a good old family comedy, but with a trans element to it. It's a family sitcom and that doesn't seem too risky for me.'
He said he was heartened by the reaction at an earlier screening, when he kept a keen eye on the audience.'I was interested in blokey blokes' reaction,' he said. 'And to see some famous blokey blokes reduced to tears, it spoke volumes.'
Certainly from within the BBC, he said: 'If there has been any resistance, it hasn't reached me.'
And he acknowledged the fact that trans people were becoming more 'recognised' in the media, thanks to the likes of Netflix's Orange Is The New Black and Amazon Prime's Transparent.
That thought was echoed by Lees, who chaired the post-screening discussion last night. Welcoming the sea change, she said: 'When I used to see trans people on TV they were aways ridiculed, mocked, humiliated. They weren't human beings'.
Boy Meets Girl is thought to be the first mainstream TV show to portray a kiss between a transgender woman and a cisgender [non-transgender] man, but in a previous interview Root, who transitioned in her mid-30s, said: ' The kiss is the least of it. There's plenty of sauciness after that. I hope the nation is ready for it. It's about time we had an honest show like this.'
Harry Hepple, who plays Leo, says his eyes were opened by being involved with the show. 'My experience of the trans community was nothing before this project, it was not even part of my world' he said. 'It was a real education for me personally. It had completely passed me by.' But again he emphasised it was not 'just' a trans comedy: 'It's dealing with so many things: unemployment, body image, it's really rounded.'
However, Welch does have some experience of accepting flexible genders and sexualities. 'My dad dressed as a woman,' she confessed 'Because our surname is Welch he was Raquel. He used to be beautiful, but now at 79 he's not so glamorous. So my family are totally cool about this; in fact they're very excited.'
Welch also praised director Paul Walker for the way he made the show look, adding: 'We had a fear of it being a bit sitcommy – the trans Terry and June.'
In fact, BBC Two controller Kim Shillinglaw, who is 'proud to be putting comedy back in prime-time', says Boy Meets Girl thinks that's far from the case. 'It's a sign of where we want to take BBC Two comedy as a whole,' she said.
Here are a couple of clips:
Published: 2 Sep 2015
Recent Features
What do you think?