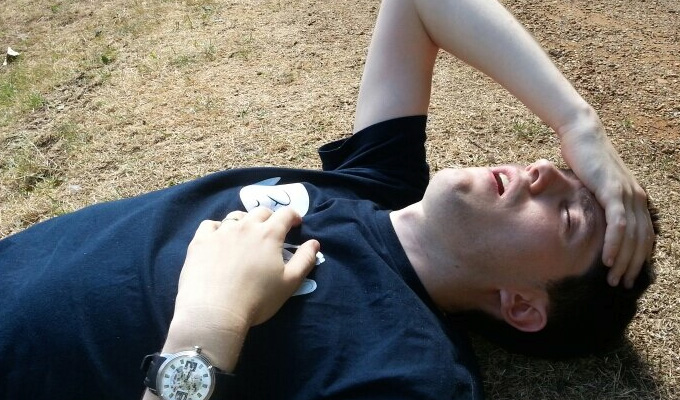 10 ways to start a Fringe conversation that isn't: 'How's the show?'
This weather is crazy!
If the weather is not crazy enough for this, hire a wind machine and several people to throw hail stones at you mid-conversation.
The situation in Greece sobers us all.
Make sure to add this in to any conversation in Edinburgh as much as possible. You will appear up-to-date with world events while not actually having to know anything about them. If your fellow converser does know more about Greece than you, just say you were talking about the film, then whisper: 'Olivia Newton-John,' sadly and then walk away.
(while pointing at a stranger) Is that Alison Moyet?
If you ask this question enough, statistically at one point it will be Alison Moyet. And then you can talk to Alison Moyet instead of the loser you're currently speaking to.
Did you hear what happened to Lee Nelson?
Again, it's statistically unlikely that Lee Nelson will get through a month without something happening to him. The standard response is to tut and say: 'Mmm. Terrible business, you know. Three security men had to take him down.'
I've found a great crying corner!
People are always excited to hear about the secret place you go in Edinburgh to cry. My top tips are the alleyway next to the fish and chip shop on the Royal Mile, the KFC in the Princes Mall and the front row of a big stand-up's Work In Progress show.
Have you climbed Arthur's Sikh?
No. Not 'seat'. Common mistake. It was named after Arthur's manservant. Impress locals with your knowledge by correcting them whenever they say 'seat'. You're welcome.
(pointing to a mark on your body) Is that a wart?
Same deal as Alison Moyet. At some point it will be a wart, and then you have that to worry about for the rest of your life.
Let's go for a dawn run tomorrow morning!
Watch their eyes fill up with panic as they think of a reason to get out of it. 'I can't, I've got a slot on a mixed bill at The Tron then. Yes , it starts at 5.30am.'
I feel like a small portion of fries from one of the venue stalls, can I borrow £7?
Seriously, what the hell, guys?
Have you heard who's on the Foster's Comedy Judging Panel this year?
Then point to a Spanish family going up to Edinburgh Castle and tap your nose knowingly.
Published: 25 Aug 2015
What do you think?