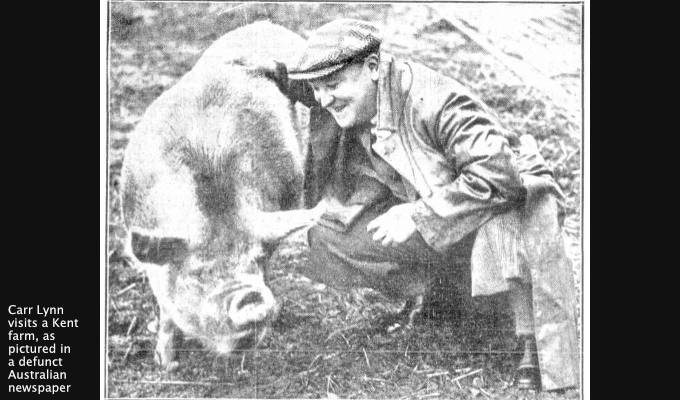 The Vapourised variety star
I
n November 1934, several newspapers carried an advert for Vick Vapour-Rub, endorsed by 'BBC star' Mr Carr Lynn, right. 'I depend on my throat for a living,' stated Mr Lynn, who was described as a well-known stage and radio animal mimic. Vick Vapour-Rub couldn't have found a better advocate. After all, who wants to listen to a whole farmyard of coughing and wheezing livestock?
I must confess the name of Carr Lynn meant nothing to me. I presumed he must have been a predecessor of Percy Edwards, the go-to animal impersonator of the 1970s and 1980s, who voiced Bubbles the dog in Hi-de-Hi, a whole family of pigs in The Good Life, and a dodo in The Goodies.
Carr Lynn was indeed a generation older than Percy, having started his stage career in 1914. But their radio debuts are surprisingly close. Carr Lynn in 1928, Percy Edwards in 1931.
Carr Lynn, generally billed as a 'comedian and mimic', would walk on stage dressed as a farmer and proceed to give vocal impressions of the various animals on his farm. This was exactly the sort of persona that comics would use when sending up this kind of niche variety performer. An unconvincing rural accent punctuated by equally unconvincing woofs, quacks and snorts.
Kenneth Williams did a similar turn to entertain Tony Hancock in the classic radio episode Sunday Afternoon at Home. And, on TV, Peter Glaze was the manic dog impressionist to Tony's 'mummerset' Joshua Merryweather in The Bowmans, a thinly-veiled spoof of The Archers.
Every indication is that Carr Lynn was a better class of animal impersonator, in fact one of the biggest names (in a fairly specialised field) of his day. His act also had a neat twist. After he had concluded his tour of every pigsty, stable and cowshed, he would add a touch of exoticism by turning his attentions to the visiting circus in the next field. The ferocious roar of a lion was achieved with the aid of the cylindrical glass chimney from an oil lamp. (Percy Edwards can be seen employing the same piece of equipment in his appearance on The Morecambe and Wise Show.)
While touring the American vaudeville circuit, Carr Lynn visited Bronx Zoo and, according to a local newspaper, succeeded in dragging a little conversation out of every animal 'except the giraffe, who has never been known to speak to anyone anyway'.
Wherever in the world he was, he would always pay a well-publicised visit to the local farm or zoo. But he received some less welcome publicity in Australia after a fellow performer, ventriloquist Arthur Prince, punched him hard on the jaw. After that, it was impossible to see either of their mouths move.
Almost uniquely among entertainers, he actively discouraged audience response. If anyone started to applaud, he would stop them with an admonishing whistle. 'It's just a job of work,' he would tell them. Do I call at your office and greet you with a salvo when you knock off?'
However, the Vapour-Rub advert of November 1934 doesn't quite tell the full story. This 'BBC star' hadn't actually been heard on air for the past two years. Neither had he recently appeared at any variety theatre. It was in November 1933, a year previously, that he'd made his final stage appearance. Soon afterwards he was admitted to hospital. And theatrical newspaper The Stage reported his death in April 1934.
For many performers, that would be the end of the story. But then Vick Vapour-Rub came to his rescue. Carr Lynn may have been dead for more than half a year, but those medicated vapours quickly got to work. And there he was, in the daily papers, restored to health and eager to resume his stage and radio career.
Not for the first time had Vick Vapour-Rub plucked a troubled soul from the jaws of death. In their vaults is a glowing testimonial from a prominent member of the Danish royal family, who had lengthily contemplated his own mortality until he finally spotted that life-affirming glass jar. It reads as follows: 'To die, to sleep; to sleep, perchance to dream – ay, there's the rub!'
• •Alan Stafford is the author of Wilson, Keppel And Betty: Too Naked For The Nazis available in paperback from Fantom Publishing, Amazon and independent bookshops.
Published: 23 Nov 2021
What do you think?