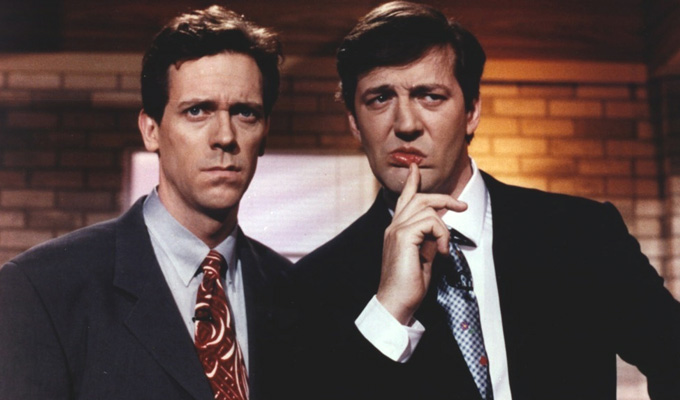 Not just 'upper-class wits'
Above my mantlepiece hangs a frame containing the Holy Quadrality Of Double Acts: Cook & Moore, Morecambe & Wise, Reeves & Mortimer, and Fry & Laurie. With apologies to French & Saunders, who do occupy their own place in comedy duo history no higher or lower than the aforementioned, and skipping over less seasoned acts like Mitchell & Webb, these eight men symbolise the greatness of comedy partnerships to me, from generation to generation.
And yet, where there has been a truckload of Eric & Ernie books, a surfeit of tripe published about Pete & Dud, and one Bruce Dessau title celebrating Vic & Bob which came out 20 years ago, nobody has ever picked out Stephen & Hugh for a print celebration in this way – and with the 30th anniversary of their opus A Bit Of Fry & Laurie in the offing, it seemed a timely and worthy use of the crowdfunding apparatus set up by publishers Unbound.
But equally, there would be no excuse for holding up for praise a couple of Footlighters (only saved from the full combo of 'rich, white straight and male' privilege by the sexual leanings of one) without acknowledging the inescapable fact that neither colleague had Richard-Pryor-like hard-luck childhoods in their backstories. Having written the official biography of multi-millionaire Douglas Adams in a time of austerity, it's a challenge I already know well.
Crashing onto the scene just after the first belch of the alternative comedy movement, Fry & Laurie were never less than painfully aware that their public school and Cambridge heritage put them on the back foot in the 1980s. Any media coverage they picked up tended to be headed Upper Class Wits or similar, which caused Laurie in particular endless agonies. Recent Python-baiting debates about the influence of Oxbridge boys on British comedy haven't exactly dispelled any prejudice against the poor well-to-do patriarchs who have done so much to make British comedy the best in the world.
The challenge is complicated further by the fact that no comedians have ever been quite so self-lacerating as Stephen and Hugh, who constantly undermined their efforts in sketch after sketch throughout Saturday Live and four series of ABOF&L, with scenes that end with a plea to the viewer to provide a punchline, or a belligerent audience member screaming that they had nicked his jokes, and introductions describing their comedy vehicle as 'another packed half hour of abject misery and desperation, a catalogue of cynicism and emptiness, and an ottoman full of vapid excuses' (Or, in one abandoned intro, just a shot of the two colleagues sitting dead on a sofa with gunshots through their foreheads).
And yet, I'll skip a few tens of thousands of words attempting to demolish imaginary inverted snobbery, taking in endless justifications of the colleagues' Oxbridge privilege and reminders of their left-wing activism ('champagne socialism' be blowed), from Comic Relief to Labour party broadcasts, and cut to the chase – many people, myself obviously included, consider Stephen and Hugh's unique joint comedy voice to be the funniest of all time – or at least, certainly of their generation, even before the further brilliance of their performances in programmes like Blackadder and Jeeves & Wooster are taken into account.
The absence of their inimitable brand of sophisticated silliness and slick sickness from our national comedy pick and mix feels all the more marked on discovering the enormous treasure trove of unused comedy material Stephen Fry shared with me at the start of this book's composition.
The lack of sketch shows on TV is a popular topic at the moment anyway, but the hours of rough sketchage found in the Fry & Laurie archives makes it clear that there was nobody like them, and every double act to come after the pair would have killed to have been able to perform off-cuts as viscerally funny as this. And their 'targets' (while admitting that both comics would vomit at the usage of that word) were of course the worst kind of authority figures – smug Thatcherite City boys, brass neck businessmen, clueless toffs, dumb security services, silly police, and above all, disgusting politicians.
A huge chunk of this 'unseen' sketch material can be found in the back of teSoupy Twists, now it's taking up space in the country's best bookshops. I even had the pleasure of bringing some of it back to life at the book's launch, alongside comedian Paul Gannon and Hitchhiker's Guide stars Samantha Béart and Toby Longworth. These and other antics reminding the world of the hilarity spread by these two tall classless wits can be followed on the #SoupyTwists hashtag, where it's clear that their appeal has not dimmed in 30 years, nor across the racial, gender, sexual and bank balance spectra.
Stephen is of course the most National-Treasury of all National Treasures, his dear old colleague is a planet-famous movie star who holds his own against the world's George Clooneys. And yet, the distinct flavour of their joint talent to amuse, that style of dinner-jacketed cocktail comedy, seemingly respectable and twee but regularly vicious, mind-twisting, and deeply outrageous, is a flavour which British comedy has lacked for decades.
Frankly, this whole book is a bid to stir the colleagues into their ever-teased reunion show. In their autumn years, they represent the Establishment now more than ever they did, and are better placed than ever to take them down. Never before has this country, and the excesses of its elites, more deserved Fry and Laurie's loving laceration.
• Soupy Twists! The Full Official Story of the Sophisticated Silliness of Fry and Laurie, by Jem Roberts, has been published by Unbound, priced £16.99. Click here to buy.
Published: 28 Sep 2018
What do you think?