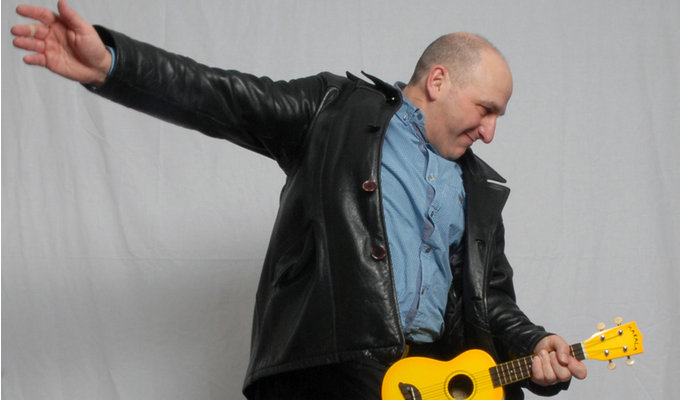 Hey writers, let's create the next big audience sitcom
This weekend, comedy writer Dave Cohen gave the keynote speech at the Craft of Comedy festival in Llandudno. Here is an edited version of what he told the assembled industry...
---
I'm very honoured that Craft of Comedy director Steve Doherty invited me to give the first ever keynote speech. He could have chosen someone at the heart of the industry, someone at the pinnacle of their success, instead, he chose a writer. An averagely successful comedy writer. The most averagely successful comedy writer in the country.
It is an unwritten rule – well, it's probably written somewhere but I'm damned if I'm going to give another writer credit for it – that if one or more comedy writers are gathered together in one place they will moan.
But I don't want to moan, as my old gran used to tell me: 'If you can't think of anything nice to say, you're Piers Morgan.' I want this to be a celebration, a love letter to my favourite televisual form, the audience sitcom.
The audience sitcom is dead, we're told, every few years, by journalists convinced they are qualified to write about sitcom due to their abundant experience of sitting in front of the telly, arms folded, mumbling: 'That's not funny. I can write better than that. Why are they using canned laughter?'
But they do have a point. No matter how many times we try and explain that laughter is not canned, the fact is that if you are not enjoying this audience show, nothing will make you hate it even more than the sound of 400 morons who are.
If you want to be depressed easily about the state of audience sitcom, check through the British Comedy Guide's annual pages of 'notable new comedy shows'
In 1968 some of the audience sitcoms that aired for the first time included Dad's Army, Please Sir, Nearest And Dearest, The Dustbinmen, Father Dear Father and a sketch series called Nice Time starring Kenny Everett and Germaine Greer.
Let's move forward 20 years, 1988 still a pretty good year for new shows: Red Dwarf, Rab C Nesbitt, After Henry, You Rang M'Lud, Whose Line Is It Anyway (let the panel show onslaught begin).
How about 2008? Notable new audience comedies were Cabin Pressure, Rudy's Rare Records, both radio, The Inbetweeners. Not one new notable TV audience sitcom.
The problems that have been around for years. Audience sitcom is very expensive to make. The BBC, even by 'the BBC is strapped for cash' standards, is strapped for cash. It's commercially high risk. If you've ever been to an audience sitcom recording you'll know that even if the show goes brilliantly, the magic in the room doesn't automatically travel through the camera lens to your living room.
No TV show provokes more intensity of passion than an audience sitcom. A disliked drama may be 'dull' or 'boring', a failing reality programme will just be ignored but if there's an audience sitcom we don't like, we take it personally and are hurling abuse at it on social media within seconds of the opening credits.
We're used to shows looking 'real'. Without the constraints of a studio and a live audience, programmes like This Country and Outnumbered, usually using just one or two cameras, can be filmed anywhere at a fraction of the price. Shows recorded in a studio can only have two or three locations.
If you're a top comedy performer and you're offered the chance to do a sitcom in front of an audience or without one, knowing all those things that can go wrong with audience, which are you more likely to choose?
Another reason audience sitcoms are no longer so popular is that since the 1980s, whether we like it or not, the writer-performer has become a major fixture in mainstream comedy. Before alternative comedy we had subsidised theatre. The great sitcoms of the 1980s and earlier were mainly writer led, because British culture was essentially theatre-led. And theatre was where writers and performers learned their trade.
In the 1980s, commercialism took over and the repertory system has almost completely died out. Anyone wishing to write or perform comedy has had to find other ways in. Shane Allen, BBC Comedy Commissioner, admitted it's much harder now for people who are just writers.
We no longer have immensely versatile working actors who can play anyone, any time, instead we have stand-up comedians who've done thousands of shows. They can't play lots of different people but they can play any audience, and they can play any version of themselves. No wonder the TV companies go to them first.
There are now new problems. First is existential, what is a sitcom? Twenty years ago that was an easy question to answer: Friends. Frasier. Father Ted. What is it now? Flowers? Fleabag? And since when did F take over from K as the funny letter?
At the TV Writers' Festival last week, BBC Studios commissioner Chris Sussman said he is looking for comedy drama. He didn't define it, deliberately, he wants writers to be original first, and worry about those details later. Good for him. And Jon Mountague, head of comedy at Sky, asked to define comedy-drama, said 'it's whatever you think it is. I'm not sure it matters,' If even comedy commissioners aren't defining sitcom, what hope do we have?
But when a panel of comedy commissioners at the festival were asked: Are you looking for audience sitcom?" Instead of the answer I was expecting, every one of them said 'yes'.
Commissioners are looking for audience sitcom.
So why aren't they making them?
'Because nobody sends us audience sitcom scripts.'
To which writers will respond: 'That's because you don't make them any more!'
Fiona McDermott of Channel 4 said: 'If talent pitched it to us, we'd embrace it.'
Which brings me to the biggest feckin problem of all. Who in this room wants to be known as the writer of the next Mrs Brown's Boys?
When it first appeared on TV in 2011, how I laughed, but not in the way they were hoping for. It was the patronising, mocking, smug, superior laugh of the North London metropolitan elite, more specifically the laugh of someone who believed the sensible arguments that political correctness was not a terrible thing had been won, and the subject was closed.
Soon the laughter turned to horror. The show was popular. In fact it quickly became the most popular comedy on TV. How did that happen? Audience sitcom, the one subject on which I claim to be something of an authority – how did I call it so wrong?
People like Mrs Brown's Boys, millions of them. I had to get over it, and I have.
I think one of the main reasons it is the focus of so much opprobrium is because for most of the time it's all that audience sitcomland has to offer.
What I say to you, is if you dislike Mrs Brown's Boys so much, why don't you try writing something different?
As Swift famously said: 'The haterz gonna hate hate hate hate hate, but the players gonna play play play play play .'
So come on writers, get fecking writing audience sitcom. That'll surprise the commissioners.
I know quite a few writers who have worked on non-audience shows and they say quite often: 'It's a shame, sometimes we have to lose a great joke because it interrupts the flow of the narrative.' You don't get that luxury with audience sitcom.
So how are we going to sell our audience sitcom scripts, how will we persuade the TV companies to make this high-risk, high-cost, high-chance-of-success-only-if-you're-a-show-like-Mrs-Brown's-Boys genre?
The answer is: I don't know. But… this has never been a better time to find out. There's a revolution happening in telly and, as ever, the BBC are the ones, forced by necessity, to come up with the answer.
We tend to talk of the BBC as a homogenous outfit, but many in this room will tell you what a hugely different experience you have working for BBC telly, radio or kids' TV. Radio and CBBC have been used to innovating, thanks to cuts and crises, for decades. Radio 4 continues to produce an incredible range of comedy from the most experimental late night weirdnesses through to the most mainstream early evening star vehicles.
Radio and kids' TV are the last remaining training grounds for new writers and programme makers. If you want to get on in TV, you'd also better start listening to what CBBC are up to.
At the first writers' meeting for the new Horrible Histories series last month we had a visit from a CBBC exec, who said: 'Everything has changed kids no longer sit down and watch telly at a specified time. Everything is about delivering content first through YouTube, Instagram, Snapchat…'
Future generations are picking up their comedy in completely different ways to how we did, And yet, families are still sitting round the telly at 7pm on a Saturday, watching audience driven shows. What if we get back into the habit of making audience sitcoms? All it takes is for one of them to be a hit on a Saturday evening, and they'll become fashionable again.
I want to pick up on something else Jon Mountague said at that panel last week: 'We don't commission writers, we commission programmes.'
I'm going to use a word that may cause you to be physically sick, as I nearly was when I first saw the word 'webinar'. This word combines the esteemed noble thing we love with all that we despise, the very adversary we chose this career to avoid - and the word is writerpreneur.
I've been spending a lot of time this year learning about self-publishing, I have a book about comedy writing coming out in September, it's called Funny Up and it'll be available from all good computers, because I decided early on that I would publish it myself.
I considered it an important principle not to approach publishers or literary agents on the basis that every single one of them would almost certainly reject it. I have nothing against rejection, we comedy writers love it, it's how we bond.
I have, however, very late in life, discovered my inner capitalist. In the world of self-publishing, writing a book is a very small part of the process. Making it yourself, designing it, proofreading, building an audience ahead of publication, marketing, publicity, building whatever other skills you bring into the creation, all this matters.
And every time I start to feel the hostility of the socialist voice at the back of my head yelling 'sell-out' and 'biblio-fascist', I remind myself of my last book. It took five years of my spare time, I got someone to design it and typeset it, had a launch party, sold a few hundred copies, and then I more or less forgot about it.
Now, I've got a new book and I am putting myself in a position to at least give it a chance. And this is what writers need to do now. Remember commissioners commission programmes not writers. Stop being just a writer, become a writer-producer. Don't be afraid to keep creative control of this thing that you have nurtured from nothing.
What have you got to lose by insisting on being present at every meeting, of having a say in casting, and rewriting – yes it's your vision but don't get precious about it – and being on set and in the edit. 30 years ago Jimmy Mulville, Griff Rhys Jones and Henry Normal were all writers who learned to produce.
It's time to step outside of your comfort zone, stop using cliches like 'comfort zone', and get writing.
Writer performers, get working with writers. Make stuff. Remember why you got into this job. Let's rediscover our great tradition of live narrative.
Let's take control of the production process
Make stuff online
And be bold! Write audience sitcom scripts!
We've become a kingdom divided, but comedy can unite us.
Sit me in a room with Nigel Farage, Katie Hopkins and Steven Yaxley-Lennon in front of an episode of Dad's Army and I guarantee by the end of it… well, we'll still hate each other, but for half an hour we will have pricked the pomposity that makes us think we speak for a nation or that we're smart enough to deliver a keynote speech about audience sitcom to a room full of comedy experts.
• Dave Cohen is Britain's most averagely successful comedy writer. His website is here, and he also co-hosts the podcast Sitcom Geeks.
Published: 17 Jun 2018
What do you think?