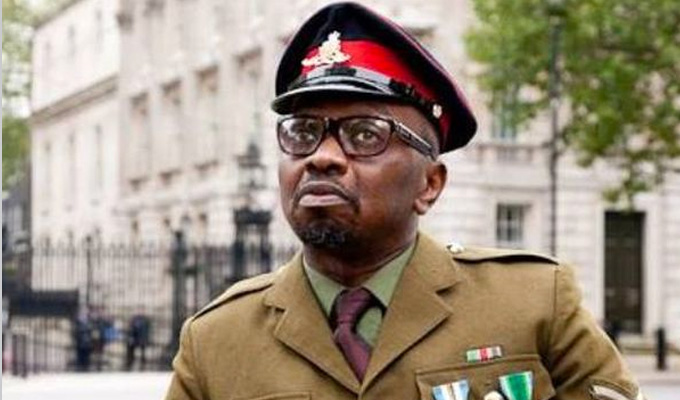 What I learned from a homeless guy
Now that the Edinburgh Fringe is over for another year, now that the reviews are in, the stars discovered and the mental breakdowns over, I want to write about one of my most fulfilling Fringe experiences as a stand-up.
At about 2.15pm on the fourth day of the festival, I was on stage performing in a Free Fringe show when I noticed a face in the audience that I felt that I recognised, but didn't especially think anything of it.
Later that same evening, I was on the street flyering for my show, The Rise Of The Comedy Dictator, when I saw that face again, this time sitting on the pavement with an old blanket covering him. The man was homeless, though I had not, of course, known that when I had seen him in my audience a few hours earlier.
I went back to him, to ask where I knew him from, just to check if he was the same guy. He responded that he had indeed come to my show and that he had greatly enjoyed it.
And I realised why his face looked familiar – as he had been to the show several times before. It brought a lump to my throat, realising that a man with no roof over his head had been in the audience of my show, and that he had enjoyed it so much that he had come back.
I immediately forgot my relatively trivial worries of whether reviewers were going to come to my next show, I forgot about whether or not I was going to have a packed audience. It felt just then that this was the really important reason I had come to Edinburgh: to make contact with people – and in a small way help entertain one of the marginalised in our society, not just those who can afford to pay for shows.
It dawned on me that whilst he was at my show he had found some comfort, shelter and that I had made him laugh. I hope that for that hour the guy got to forget some of his troubles, maybe even about where he would lay his head that night.
There is a view that the Edinburgh Fringe has become too commercialised, that comedy is only for those who can afford it and excludes those poorer and more marginalised members of society. But that is not necessarily true, especially with free shows.
As I left Edinburgh on the final day of the Fringe with my four-star review (from The Wee Review) which had once seemed so important, and with my award for Best Comedian Flyerer, I realised that those accolades meant little to me when compared with the pleasure I hope I had given by performing to that homeless guy.
I hope the Free Fringe continues to grow from strength to strength and become increasingly even more accessible to folk like my homeless guy. Despite the criticisms of the Free Fringe, it offers a chance for those with lower budgets – and hopefully some of the more marginalised people in society – to enjoy stand-up comedy.
I am very grateful to the homeless guy, we had some nice chats. He helped me put my concerns into perspective. And, what a lovely story he has provided me with to share at every gig!
I dedicate my Edinburgh show to the homeless guy. For in the manic, frenetic and competitive environment of the Fringe we can sometimes fail to see the impact that comedy can have on the communities around us.
Published: 7 Sep 2017
Recent Opinions
What do you think?