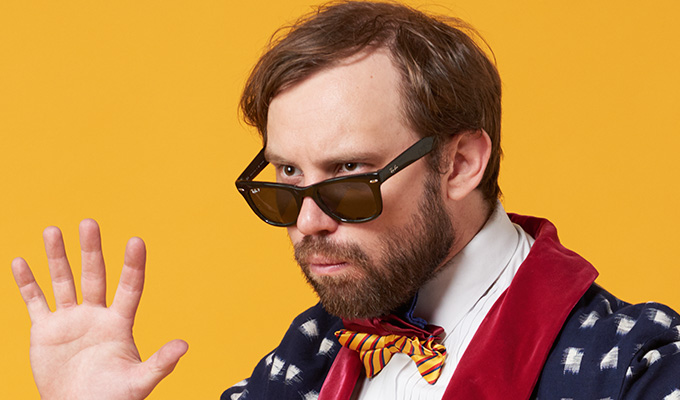 So I'm single...
I'm not sure how other comics work, but the other day I found myself walking around in my pants with piles of books sellotaped to my shoes. This is very strange, because usually there are two other guys in the room.
This is my 11th Edinburgh Festival (12th if you count a student play which I don't like to count). It's also the first time my sketch group WitTank are not all together because we're not doing a sketch show. In fact, one of them isn't even coming to Edinburgh.
Some say a sketch group is like a marriage, but they're wrong - it's much stronger than that. I've done things with these guys I'd never dream of doing with a spouse, like having a screaming match in Heston services Burger King over who forgot 'the gun', or simply hiding in a train toilet all the way to Leicester. You just don't do that with a soulmate, this is sketch group stuff.
So there is a period of readjustment. You mourn the long hours building paper mache whale costumes, the arguments over which intonation is 'funnier'. I especially miss the camaraderie: every comic knows what it's like to die in Hereford, but when you all die in Hereford, its brilliant (even if you are due a massive prop related argument on the drive back home).
The biggest change is in the writing process. As a stand-up I write alone and try things out on stage perhaps that night - sometimes it's not even written down (I think this is fairly usual). However, with sketchy stuff, we'd write, print out a script, rehearse, and then perform it three days later. Of course, we'd all be together in our pants the whole time, so it was fine.
Doing it alone, however, is different - you lose that constant feedback loop you get when you're surrounded by writing partners. Plus I can't write character stuff in public because I have to talk to myself (apparently my constant muttering in the local café was 'unsettling' other patrons).
Consequently, I've spent the vast majority of summer prancing about my living room pretending to be someone else, alone. That makes you question yourself: 'is this normal?', 'have I actually gone mental?', and when you're sellotaping books to your feet, these are valid questions.
With every breakdown, however, there is a breakthrough (I tried counselling once – I lied to him constantly). Working alone forces you to commit to ideas that you find funny and interesting and to back yourself in a way you don't get to 100 per cent of the time when in a group.
You actually get to do everything that you want to do. This is very liberating. It might mean you try something that doesn't work – and oh I have – but there's a confidence that comes with fighting the good fight alone. I do of course miss my sketch brothers, but in a way, we're all there in spirit…
That sounds like they're dead, they're not dead.
• Naz Osmanoglu: The Naz Show is on at Just The Tonic at The Caves at 14:45
Published: 18 Aug 2017
What do you think?