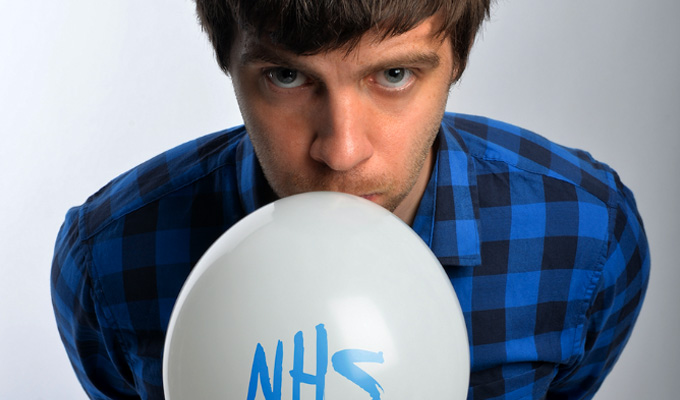 Fringe Clinic #4: Exercise
In the final instalment of our guide to surviving the Edinburgh Fringe, comedian and doctor Ed Patrick offers tips on getting some physical exercise.
The Edinburgh festival is a marathon. And like most marathons you'll most likely be sweating, wishing you'd prepared more, and wondering who all these people around you are.
You may find you're kept active by batting away flyer after flyer, short sprints as you're late for shows, or just wandering aimlessly in venues. But keeping physically active is a good way of staying healthy and fights the risk of heart disease and type 2 diabetes. So here are some tip top tips to keep you tip top.
Hill Climbing
Edinburgh has some beautiful places to look down from upon high. Arthur's Seat, Blackford Hill and the Pentland Hills are all within easy reach from the city centre. A brisk walk or even a run up these will help deliver fresh air to the lungs so that by reaching the top you're ready to scream away any frustrations. Just ignore the tourists looking scared behind you, give them a flyer on the way down and they'll think it's part of a show.
Walking and Running
If you've got the lycra, Edinburgh has the trails. Arthur's Seat and Blackford Hill both have routes running around them, and the Meadows are good for a few loops if you can dodge the apocalyptic levels of people at this time of year.
You could even venture further afield to Rosslyn where there are some off-the-beaten path trails, and also visit the famous chapel and see what irritation Dan Brown brought to a local community by mentioning it in the Da Vinci Code.
Swimming
Immerse yourself in water, wash away the festival grime. If chlorinated is what you're after, the city has ten swimming pools run by Edinburgh Leisure including Warrender swim centre and the Royal Commonwealth pool. But why not take a day trip to the beach and get in the sea? Gullane beach is a popular spot, and there's usually an optimistic ice cream van there.
Sports
Tennis, squash, football, golf you name it, Edinburgh has some competitive setups should you wish to take on fellow Fringers or punters. There are tennis courts run by the council on the Meadows, and there is usually a friendly game of football being played nearby.
There are squash courts at the Pleasance gym, should you want your comedy and activity sweating side-by0side. The pitch and putt course on The Meadows is great fun and free, you can get clubs and balls from the Golf Tavern where you'll undoubtedly be sinking a few drinks after the putts, non-alcoholic of course.
Avoid the cab/bus
If none of the above suit, simply avoid the bus or taxis by walking between venues or from your pricey accommodation. Find a route that is slightly longer or more scenic and give yourself time to stretch out those tense limbs in a walk of no shame. Plus you'll avoid another knock to your Uber rating.
• Ed is performing his show Comedians' Surgery at Just The Tonic at the Caves at 14:35 daily. Twitter.
Published: 13 Aug 2017
What do you think?