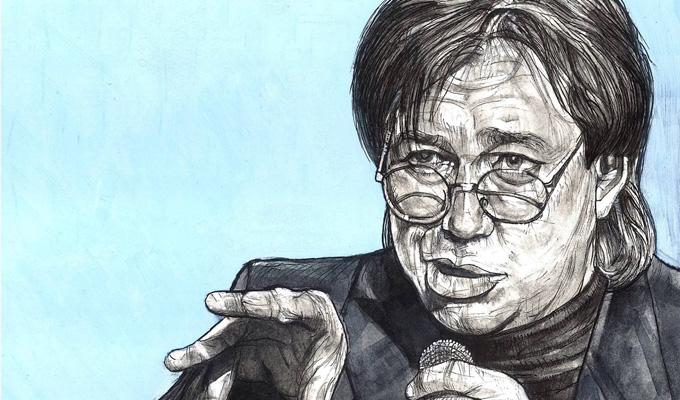 The day I met Bill Hicks... then saw his insane show
When Bill Hicks walked into the Cardiff bookshop I worked in one grey November afternoon in 1992, I recognised him immediately. I'd seen his TV concert Relentless on Channel 4 a few months before, plus he also wearing the same black suit he wore on that show.
We didn't get many people off the telly coming in the shop (apart from Bonnie Langford one time) so I felt obliged to say hello. Bill seemed a bit reserved but was friendly enough and shook hands with me.
He wasn't quite the comedy giant we all know and admire now, but he was very tall. He also had huge hands like a goalkeeper. The shop didn't have the French poetry book he wanted in stock, but we briefly got to chat about Rimbaud, Jim Morrison and Bill playing at Cardiff University that evening.
After he said goodbye and left, I knew I had to see his show later.
The only gig I'd previously attended at this venue was The Fall, but even seeing Mark E. Smith at his grumpiest argue with his bandmates onstage and turn the volume knobs down on their amps mid-song was a genteel affair compared to what followed this night.
The rowdy audience already seemed to be arseholed on cheap student union beer way before Bill came on. When he did appear, he'd changed into his black leather jacket and walked onstage singing an a capella version of It's Not Unusual by Tom Jones (an unexpected but delightful attempt at a local reference).
Bill proceeded to give an electric performance of what would now be seen as many of his classic routines to a crowd that was getting increasingly more drunk and unpredictable.
Early on, someone near the front shouted out an unintelligible heckle. Before Bill could reply, another punter screamed at the heckler to 'SHUT THE FUCK UP!'. A bemused Hicks won the crowd by saying: 'Wow! This is the only gig I've done where the hecklers are heckling the hecklers! I feel like I should just throw a rugby ball down the middle of the hall and let you all get on with it.'
This audience interruption seemed to set the tone for the evening. A bit later, Bill was performing his JFK assassination piece. When he stated his belief at how Lee Harvey Oswald wasn't the killer, a group of people went 'Ooooh!' as if Hicks had said the most shocking thing imaginable. 'What the fuck?' he exclaimed. 'Is there a party from the CIA in tonight?'.
The bar was on the side of the hall, and people would regularly get up during the set to get more drinks. Unfortunately, the bare wooden floor made noisy click-clack footstep sounds when anyone walked across the hall.
Bill tolerated this initially, but eventually snapped and exclaimed: 'Is there some fucking Dutch boy in clogs at the back there?' Then, when he began a piece on how he'd recently given up drinking, some insensitive idiot in the crowd immediately bought a pint at the bar and placed the plastic beer glass on the stage for Bill. Some other dickheads started a 'drink! drink!'chant, but Bill just looked uncomfortable. 'Does anyone want this?' he said, gesturing to the glass, 'Can someone take this away please?'
As the gig came near the end, a drunk sat at the front interrupted Bill mid-sentence with 'Bill! Can I ask you a question?' A visibly irritated Bill barked 'What?'. 'Are you the bastard son of Frank Zappa?' asked the pisshead. 'What the fuck?' exclaimed Bill. 'Do I look like I'm called Dweezil Moon Unit or something?' to huge laughs.
Despite all the alcoholic crowd interruptions, Bill had performed a wonderful gig. After ending with his Just A Ride speech, gunshot sounds rang out, Bill dropped to the floor clutching his heart, and the opening chords of Tomorrow Never Knows by The Beatles began playing as the stage lights went out.
I would see many more comedy gigs after that, but nothing came close to being as exciting as witnessing a brilliant comedian at the top of their game perform in such an insane environment. Years later, I became a stand-up comedian myself. I was hoping that shaking hands with Hicks would be my Excalibur moment that sent me on to a lifetime of comedy glory, but after a largely mediocre ten years of performing, I returned to my original love of painting.
I was recently commissioned to paint a portrait of Bill by a comedian friend. I've painted many of my heroes from popular culture, but this was the only person I was lucky to see perform live (and get to shake their hand too).
• To see more of Richard Lewis's paintings, visit richard-lewis-art.com.
Published: 18 Apr 2017
Recent Opinions
What do you think?