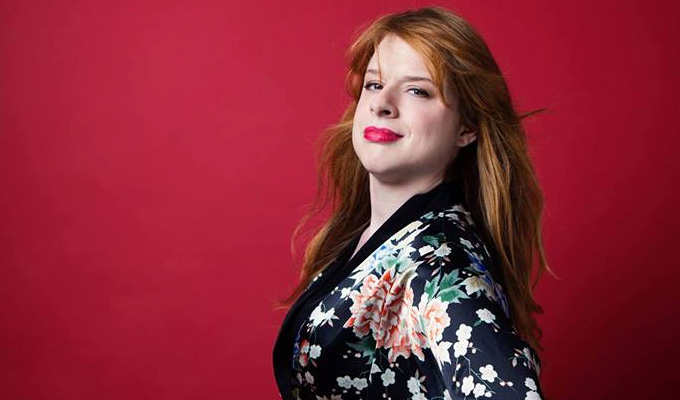 Should I really be asking strangers to fund my comedy?
I am going cap in hand with a crowdfunding project. The communal spirit to getting art funded seems all the rage – and quite frankly, I am grateful for it. 
Sure, there is a voice in my head saying: 'Hmm, Amy should you really be asking strangers to pay for your poor life choices?' before said voice changes the record to TLC's No Scrubs. However, I am ignoring that voice and concentrating on getting myself to Edinburgh. For I am a good comic (so I am told) and all I need is a little help while I establish myself on the next level.
Working in the arts is  a very poor life choice. Even more so in the completely oversaturated comedy market. You only have to look at the mini comedy empires that are springing from the plethora of free London shows to see that the landscape has changed. 
And why not? Why should there not be an alternative model when the established comedy brands stick exclusively to white middle-aged blokes talking about white middle-aged bloke stuff (at ticket prices young people can't afford)? There is a younger and still alternative comedy audience that needs feeding. So good on the free shows who book the comics they love and want, not all of whom would make it on a regular bill. 
But what has this to do with me asking people to fund my Edinburgh show? I am pretty darn good at the lolz and getting better every year.  I get some good paid comedy work, but I have not quite made it to that level where I can spunk a few grand and it not be a problem. 
With the glory days of the circuit well and truly over, I can't really look to my weekends of middle- and opening spots to pay the venue costs. And like lots of young performers trying to make it work, there is no bank of mum and dad for me - and why should there be? I am a grown ass woman, my poor life choices are my own. 
Well then get a job?  I did have a job, and the money from that job went back into last year's Edinburgh Fringe. But my employer eventually got so sick of me sneaking out early or constantly booking mornings off because I was coming  back at 4am from butt -fuck, nowhere, Ukipsville. 
I once recorded a part of a radio pilot from a cupboard at work, my life was such a scheduling nightmare. I did my best to juggle, but then there is the exhaustion. It's a raw deal for everyone, especially these poor managers, who employ these capable and fun performers, before realising, that yes, they were not shitting around when they said they 'do' comedy – they have a whole other career that is more time consuming and important to them. It is a tricky situation for a pathological people-pleaser, constantly letting down a nice boss, and it is not sustainable. 
It is often the situation that many upstarts in the arts find themselves in, as their careers start to gain more traction, they are asked to do more and more things (fantastic) but not necessarily for great money, if any. But done they must be, with the result that you are often very busy and very poor. 
And this is where I find myself, trying to make it work. Add to this the yearly emotionally and financially exhausting roller-coaster that can be the Edinburgh Fringe. 
For my first year I opted out of the popular Edinburgh version of the sex trafficking model, where I could be forever working off my debt after being 'taken' to Edinburgh. My face plastered everywhere before crying into my pint and realising that my stint of narcissism would come at the price tag of £15k. Sadly, I could not face squandering a small wedding on my ego and instead opted for a budget Edinburgh at  £6k. Budget, that's right I said £6k was BUDGET!
This year, I have stuck with my nice paid venue the Gilded Balloon. They held my hand and stroked my hair through my first Edinburgh and they offered a great room at a great time. Although it's in a previously free fringe venue. 
It is a shame that one of the great free venues, The Counting House, has gone back to the paid side. Performers are often skint, so they need the free venues and the likes of comedy's fairy Godmother Bob Slayer, who runs Heroes Of The Fringe, to develop as artists. 
However, the bigger venues are having to adapt to the changing landscape too. Letting the artist have cheaper tickets so they get more punters in and offering different models to survive. I think this is what Gilded Balloon are trying to do, adapt. 
I'll be honest, would I pay £11 pounds to see me when I can go and see a Perrier Winner down the road at a free show? Of course I wouldn't. Therefore this year I am free, or £5 to reserve a seat. It is one way of  avoiding a terrible financial pressure if you are not 'yet' (one hopes), lauded or award winning- smashing out one liners on panel shows. 
How do you make it work? Well I guess you hustle, you say yes to things that make your reserved British soul worry. More importantly, if the model for people bringing shows to Edinburgh is changing, surely the model for financing these shows can change too? A model where everyone wins?
With Edinburgh having turned into a money-making behemoth for everyone except the comedy acts that spend their time and love crafting shows, something has got to give and hopefully it is human kindness. I am hoping that maybe all the people who have thought I was good over the years or have given me compliments will put something towards the venue costs, in return for crowdfunding gifts and privileges and of course, getting to see the show itself. 
So I am glad that Fringe Funder has come in. It works exactly like every other crowdfunding platform – except this year is the first and therefore trial year, so the good-hearted organisers are not even taking a cut. It all goes to helping the performers put on their shows at the festival.
I know it is more the fashion to pretend that everything is amazing #facefaffwithfamos and we are all doing so well, but it is also good to be honest and admit, that, yeah, it's a bit of a terrifying slog, comedy. 
My most fun Edinburgh was in 2012, it was a free double act show Dysfunctional Legends with my friend James Loveridge, we played to packed rooms and we made money. In our little late-night slot we were dancing in the dark because when you think no one is watching – that is when you really dance, that is when you can be creative, when you are not worried about how much money you have spent. 
It was before agents, before pressure, before spending the big bucks. If I remove the financial pressure, perhaps I can recapture that fun? Perhaps everyone will have more fun, punters included, if the big frightening Edinburgh bills are diminished. 
And God forbid maybe we can all enjoy our yearly pilgrimage a bit more.
• Amy Howerska's Fringe Funder page for Smashcat is here. The show will be on at the Edinburgh Fringe at  8.45pm at Gilded Balloon @The Counting House.
 
Published: 13 Jun 2016
What do you think?