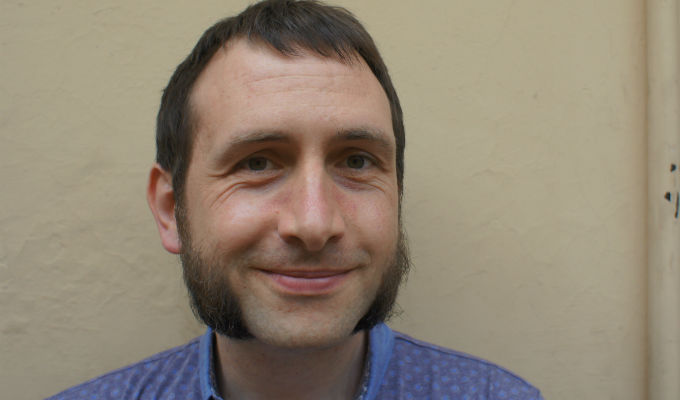 Barclaycard ads put Jason Manford's credibility in debit
It's too easy to yell 'sell out' when an artist lets cold, hard cash dictate what they do, and it's not always fair. People have to make a living, and it's sometimes not in the way they'd like to. But there is a limit to what a discerning public can let a performer get away with on the grounds of 'he's only paying the bills.' With his new ads for Barclaycard, Jason Manford just passed it.
I confess that I had Manford's cards marked after his lame diss of my hometown of Bradford on Celebrity 15-to-1. 'Which artist from Bradford....?' went the question. The answer: David Hockney. 'They have artists in Bradford?' exclaimed Manford in a Peter Kay 'Garlic bread?' voice. Yes, Jason, but on this evidence, they don't have comedians in Salford. Honestly, with Northerners like Manford, who needs Southerners to stick the boot in?
With that in recent memory, I wasn't entirely surprised when it was he who fetched up in my Facebook feed as the new 'face' of Barclaycard. (See the campaign here,
Of course, it's easy to understand comedians taking corporate dollar; the fortunes of a stand-up can be precarious (although not so much for one of Manford's popularity I would guess). And Manford, by all accounts was hardly born with a silver spoon in his mouth, so who can begrudge him making hay while the sun shines? But there's a difference between corporate gigs - bunch of suits in a conference centre, few gags about the widget-making industry, in-joke about the CEO, collect pay cheque – and corporate endorsements like Manford has done here. Namely, the public is forced to watch the latter.
And watch it I have. The comedy isn't too bad, if you like your comedy mild and observational. But context is important here, and the context is that Manford was (presumably) paid a whacking great fee. His 'hilarious' observations have been bought, so they merit scrutiny.
Yes, Jason, the 9am Friday scramble with three browsers and four phonelines to get concert tickets is a pain. Well spotted, ten years too late. But Barclaycard (and O2 and their chums) are complicit in this with their 'priority booking' and VIP areas.
And yes, dealing with call centre security is frustrating as hell. But who is responsible for the proliferation of call centres in the first place? Who designed the security procedures? These credit card company chumps you're working for.
And yes, you can end up buying things on the internet you don't want. But who benefits from us buying unnecessary stuff? Who kept bumping up credit limits for decades so that people could do precisely that?
You're doing jokes about the problem on behalf of the problem, for cash. What next?
'This global warming's a ball-ache, eh? I took the kids to Lapland at Christmas and Santa's sat there in his Bermuda shorts!' Cue laughter, female voiceover: '...and that's why BigOilCo are investing £12.63 in renewable energy this year.'
'What about the rain forest? An area the size of Wales disappearing every year! Ah well, who gives a toss about Wales anyway?...' Chuckles from the audience: 'Here at MacBurger we use only prime South American beef in our reconstituted meat discs.'
'Blimey, have you seen house prices these days? Good job I bought mine when I did. There's so many homeless people in my town the supermarket's run out of cardboard boxes!' Uproarious laughter and clinking of champagne glasses: 'If you're one of the lucky few like this guy, make sure you vote Conservative...'
I do use Barclaycard. It's convenient. It helps cashflow. That's it. I certainly don't want 'connection' with a 'brand'. Don't try and matey up to me with comedy.
And Manford, I expect that nowadays you're not short of a bob or two. Even if you are, take this material on the road, do a DVD with it. Use it against them, not for them. A chunk of your audience will be up to their eyeballs in debt to these monsters. You're sweetening the pill, while the top brass sun themselves in their Mediterranean pied-à-terre. I can see the conversation from the Med to the Marketing Department now: 'Get that Peter Kay chap to do it. He's very 'man-of-the-people.' Oh?
• Robert James Peacock is editor of Scottish online arts and culture magazine TVBomb. He tweets at @peaky76 .
Published: 29 Jun 2015
What do you think?