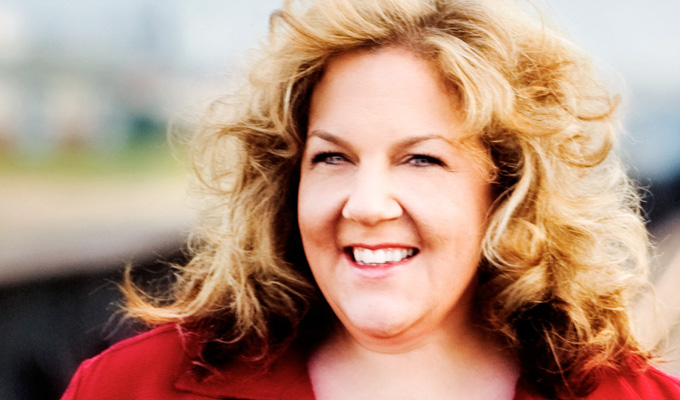 Another bit of my comedy soul dies...
It's Volunteer Appreciation Night at the Oakridge Community Centre. I park among the practical sedans. Mental note – sedans; no trucks; keep the language clean.
Inside, the smell of buffet roast beef mingles with years of athletic aroma. The gig is in the gymnasium. Individual desserts are laid out on the folding tables; cheesecake with a graham wafer crust and canned cherry topping spooned on top. It looks as appetising as gravel. Comedy has ruined me for buffets. I note the sea of white hair. I note the ceiling. Low ceilings are good for comedy. The gym is 30 feet high.
I ask for the contact lady. A woman with a cane takes me to the table where I meet the contact's daughter, Debra. Everyone just started dinner. I am interrupting. I have arrived 30 minutes prior to show time as planned, but I apologise. Debra tells me there are couches in the lobby. I've been dismissed. I go sit on a couch like a kid in time out, secretly relieved. Before I can load Candy Crush on my phone, the contact, Gwen, comes out and invites me in. Being polite, I thank her and take a seat. I'm beside Debra the Dismisser and she doesn't acknowledge my presence. Gwen introduces me to her friends. They will all be dead soon. Some say hello. One of them smiles. All of them continue chewing while eyeing me the same way bovine regard intruders.
Gwen assures me they're running on time. They're not. The MC appears. He is a spry 65. His suit is a shade of regurgitation yet he clearly feels like a cock in a henhouse. 'Oh, you're the comedian! What did the cannibal say after he ate a clown?' I answer, 'This tastes funny.' I ruin his joke but I maintain my self-respect. He and Gwen head to the stage for their presentations.
The MC takes the podium. It's on the floor in front of a stage for the band that hasn't arrived. The tables are in a U shape so people can dance. The U shape is also the abyss into which jokes plummet. I am about to try to connect with a mixture of deaf seniors and people who speak English as a second language and between us is a 25ft x 80ft joke moat.
There are no lights on the podium. They ceiling lights have been dimmed. Everyone is swimming in a dusky vague cloud. The MC has been waiting for tonight. There's no spotlight, but he feels one. He tells a painfully long joke. I know he has practised this in front of his long-suffering wife for weeks. Despite his passion and decent stage presence, the cordless mike distorts and muffles his words. When he says something with emphasis, pauses and takes a step back from the podium, the audience intuits that they should applaud despite not having heard a word. He basks.
They honour the volunteers. People stand to be recognised. I applaud and smile as if I fit in. I note who's popular with the crowd, who is the joker, who is shy, who is the martyr. I make mental notes of their names in case I can use it in my crowd work. The show's start time was 12 minutes ago.
The MC asks people to remember the volunteers who couldn't make it to the event. They are homebound, disabled and/or without wheels. I know what's coming. Please God, no. We're going to honour the dead. We're going to honour the dead and then he's going to introduce me.
I text Cory, another comedian at another gig, to let her know death is opening for me. She LOLs and I feel her empathy. The dead are honoured. I brace myself. They take a break. God listened.
I ask Gwen is there is another mike as the cordless is very muffled. She shrugs and her eyes say, 'The crowd has been fed and I've said my speech. My work here is done. I have checked out, comedian lady. Why are you still talking to me?' I suggest maybe the band has a mike. She nods vaguely and says to ask. She walks away to receive her buffet and public speaking accolades from her peers.
A see a man go on stage; looks like a band member. He will be my saviour. I walk over with fake confidence, like I'm not about to die publicly, and introduce myself cheerily. I ask him if he might have a mike I could use to which he replies with sincere incredulity, 'What kind of comedian doesn't travel with their own mike?' Despite the sting of his stabby words, I chuckle and say good naturedly, 'Well, almost all of us actually. Ha. Ha.' I can't afford to alienate this man. The only chance I have left is if someone out there can hear my words.
He opens his microphone case as if it contains a fertilised Faberge egg. He begins his microphone-care dissertation. I tune out and wonder if I resemble Chris Rock. Yes, I must look as if I'm going to get all ragey with my disabled audience, then drop the mike, cuing their thunderous applause or at the very least, the cacophonous roar of 150 canes tapping a gymnasium floor.
Once hooked up, he asks me to test the mike. 'Check, check.' Keep going, he says. 'Check, check… check 1? 2?' People crane their necks to see the woman yelling for her dinner bill. Mike check done, Gwen wanders by. Before I can ask her to introduce me, she turns to walk away, vaguely waves and says, 'Go ahead and start.' The mike guy has vanished. I need an intro. Do I find the MC? No. He will do a 20-minute spot.
Transforming from the mike check gal to the comedian is a psychological trick most minds won't accept. But I do it. Deep breath. 'Hey, everybody. I'm Lori.' While still mentally editing – no, slashing – content from my material, I try to ingratiate myself by remembering people's names, by thanking the ladies in the kitchen for the delicious dinner, by pointing out the charm and hilarity of the MC.
There is one table of 40-something couples laughing. I am the Castaway and they are my Wilson. I banter with them while the blue-haired crochet guild judges me stage left. I try to connect 'Wilson' with the jury, the jury with the English-as-a-second-language tables. I look to the bartender and a couple of young guys. I verbally use them as tiny ledges as I scale the rock face. Though I will inevitably slip and plummet due to my figurative and very literal perspiration, I shall not go down without a fight.
I have to do 30 minutes. During the sadness, I look at my watch. I think I'm at about 18 minutes. I'm at 7. I plough through. The ideal exit would be a trap door. I would happily emulate Andy Dufresne and crawl through three football fields of shit to not have to look in anyone's face right now.
But I exit the stage confidently, smiling at the smilers, not caring if they are genuine or sympathetic. I grab my purse, say thank you to the polite ones and act as if I'm going to the ladies room, even giving a 'be right back' gesture. Covered in shit, I stride out into the fresh air just barely stopping myself from the Andy Dufresne victory pose.
I start my car. I've never loved my car – nay, my sweet familiar haven - so much as now. I light a cigarette and roll down the window. I take a long drag and as I exhale. I hit play. Rage Against the Machine. Killing in the Name. It is my Silkwood shower, cleansing the gig excrement from my every pore. At a stoplight, a guy looks over to see a middle-aged woman smoking and smiling. And singing, 'Fuck you, I won't do what you tell me.'
Ironic really. I did exactly what they told me. But my comedy soul is like a liver. It regenerates. And I'll need it. Corporate season is coming.
Published: 30 Sep 2014
What do you think?