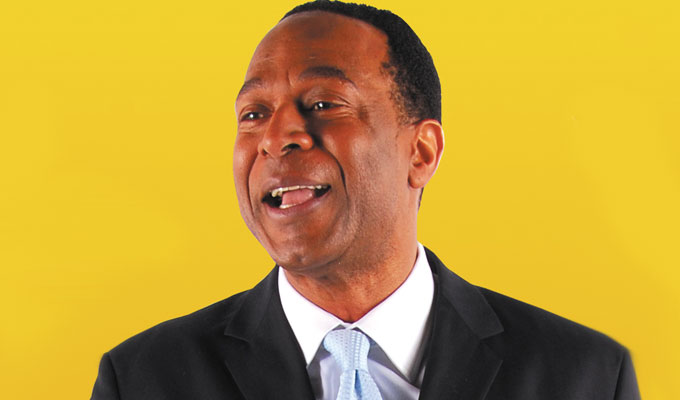 He didn't ask to be a pioneer, he just wanted to make people laugh
Like so many comics on Twitter and Facebook this morning, I was saddened and shocked to hear about the death of Felix Dexter, a great comic actor and for many years one of the top stand-ups in the country.
For two years in the late 1980s Felix, Phil Cornwall, Ivor Dembina and I toured the country with our Comic Abuse show, and he was great company, one of the best to have around on those long dull car journeys. 
For most of the 1980s Felix was virtually the only black performer on the London comedy circuit, and for a long time, around the country. He used to do a line which I can't explain very well here as the punchline was visual, but it went something like: 'I went to Scotland recently, and it's amazing because everyone looks at you like this...' and he would open his mouth wide and gawp, like he was looking at something he'd never ever seen.
It was a look I became more familiar with as our tour continued into the outer reaches of the UK. Every time Ivor introduced Felix and he walked on stage, in fact. One gig sticks in my memory, a college gig in Lampeter, South Wales, which was the first I ever did that employed bouncers from the rugby club to stand at the side of the stage.
We thought, not unreasonably, that when the students started chanting racist abuse at Felix, the bouncers would go up to the hecklers and throw them out. But that didn't appear to be in their remit. They stood idly by, arms crossed, inscrutable. When we asked one of the bouncers why he wasn't dealing with the hecklers, he said, 'We're not here for that, just stage invasions. Anyway I thought you lot liked being heckled.'
Felix didn't ask to be a pioneer, he just wanted to make people laugh (which he did, frequently) but he carried that weight of expectation lightly.
He was also a thoroughly decent bloke, which is what people always say at times like this, but I've been thinking about those hours of travelling and hanging around at gigs, and he was unfailingly supportive as well as being a great man to have around during crises, of which we had our share.
Felix was one of those acts who always went down a storm at gigs. In the early 1990s he made what I thought was one of the funniest TV pilots I've ever seen, and I never understood how he didn't get a series from it. Felix himself was never bitter, and he took the many ups and downs of his career with good grace.
So, as Ivor would say at the end of every gig: 'Two things:' So long mate. It was a pleasure knowing you.
Published: 19 Oct 2013
What do you think?