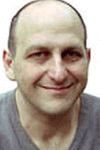 Trapped by being free...
Are you following me on Twitter? Have you read any articles by me on this website? Did you see me at one of the 30 or so gigs last year where I was trying out stuff for my new one-man show? If so, you'll have been catching me in that zone that is currently professional comedy's biggest growth area – the place where we're all working for free.
This May sees the 25th anniversary of the first ever New Material Night. Comedy doesn't really do anniversaries, certainly not like music. This year we've already had the 50th anniversary of the first Beatles' number one and the 40th of Ziggy Stardust. God help Liverpool in 2017, when it'll be 50 years ago today since Paul McCartney sang 'it was 20 years ago today' on Sergeant Pepper. Not only has pop eaten itself, it's repackaged the remains into weekly dates for your diary. I'm already looking forward to Joe Dolce night on BBC4.
It's hard to find too many comedy anniversaries. Once you take away the coincidence of the opening of the Comedy Store and Thatcher coming to power in May 1979, there's not much else. It's humbling to know that even when people come away from live gigs raving about the most amazing night out they've ever had, they still struggle to put a name to one or more of the acts.
I don't see the point of commemorating something from the past, unless it can tell us about the present. But with more and more comedy acts being expected to work for nothing, and the recent call by Tiernan Dioueb here for a comics' union, it's a good time to revisit the origin of the new material night, which along with Comic Relief from around the same time were probably the first examples of working comedians giving their services for free.
Six stand-ups - Jim Tavare, Mark Thomas, Ivor Dembina, Jim Miller, Hatttie Hayridge and me – put together a run of shows at The Cleveland Arms, a nuclear-bunker of a pub by the Post Office Tower. Most of us had become reliant on our tight 20 minute sets honed over previous years. Many were graduating to solo Edinburgh shows, and needed more places to try new stuff. There was also the feeling that we wanted a gig where it would be alright to fail.
The circuit was becoming more professional, which in most ways was a good thing. But it felt like we were losing the sense of adventure and excitement that had brought us into performing comedy in the first place. Also there were fewer comedians then, and fewer venues. Everyone knew everyone else's act inside out. It made a nice change to watch your mates stretching themselves for once.
Nobody begrudges the new material nights,and they have become exciting evenings out for audiences who are now more often treated to the sight of a big telly star trying out new material for their next Apollo mission.
But there's a sense that promoters of the regular gigs are seeing this, and expecting comics to work for less money, behind the ever more convenient excuse of 'don't you know there's a recession on?'
Meanwhile in Edinburgh and Brighton, and in gigs all over London, there is the Free Fringe, or rather two Free Fringes, even though some argue that performing for free (or passing a bucket around after a gig) undermines the integrity of professionals who struggle to make a living from live comedy.
Over the years I've struggled with this dilemma. I believe in the minimum wage, and have spent many hours in dull negotiation meetings with BBC management battling over incremental increases and percentage payments to comedy writers. But I'm also aware that becoming a working writer and performer has always involved a certain amount of initial work for which no payment has been made.
Nobody asked me to do comedy. Many people, family included, begged me to attempt a 'proper' job. When I'm trying to get a sitcom made, I'm not just competing with new untried writers (and there are thousands of you, I've seen your scripts), I'm up against all the people who have made hugely successful sitcoms, and all those who have made quite successful ones, and all everyone who has made a promising ones, and all the people who have made stinkers but nonetheless continue to impress commissioning editors. Given that there are only a dozen or so new sitcoms made every year, if that, should I sit back and wait for a commission? Or do I accept, however grudgingly, that some working for free is required?
The answer to the question 'how much work should you do for free?' is 'loads more than it used to be.' People talk about the recession of the last five years but the truth is that BBC budgets have been under attack since I first earned money from them in 1983, and probably before. What's changed is that now the independents are cutting back as well. We all do loads of work for free. Even if you are a gifted and talented comedian from the outset (which hardly anyone ever is), you'll be lucky to make three figures in your first year of performing.
So how are working comics and writers supposed to make an honest living? Tiernan Douieb called for a Comics' Union, reminding me that there was a brief period back in the 80s when one was actually formed. It lasted, if I remember, for about two meetings, and fell apart , I think, due to a huge row between the comic who belonged to the Socialist Workers' Party and the one who belonged to the Workers' Revolutionary Party. On the one hand, it didn't last long enough to achieve a great deal, on the other, it concerned enough of the promoters to the extent that they became more open about their own costs, and if I remember correctly we did start to earn a little more money.
The fact is, there is already a trade union for comics, and one for writers. The simplest way to balance your need to work for free against your need to earn a living to survive is to join one of them, or both. Equity for performing, the Writers' Guild of Great Britain for writing. Many people in comedy resist joining their union for whatever reason, principally cost. The minimum fees are around £100 a year for Equity, £150 for the Writers' Guild. That's not peanuts, especially if you're a writer-performer.
But it isn't just about the money, as Jessie J is constantly reminding us. Many comics look on Equity as a luvvies' union of TV soap stars and proper ack-torrs, even though there is a live performers sub committee that would benefit greatly from the presence of a few working stand-ups.
But the main problem unions have nowadays is perception. We've become so used to the demonisation of trade unions that we've given up believing they can make a difference. The irony is, the reason they can't make as big a difference is because not enough people become members.
As Tiernan explained, if you refuse to play a club because they are not paying you a proportionate fee for your work, there'll always be someone lower down the ladder who'll take the gig for less money. But if everyone was in Equity, the club would not have anyone to go to. I know times are hard and everyone's cutting back, but even if they're struggling too, promoters should at the very least be obligated to explain their policy for paying acts.
Around ten years ago, one of the most frequent battles over pay in radio was between the BBC and the writers of The Archers. For years the BBC had kept pay rises down to a minimum. A huge recruitment effort took place until finally, the day arrived when every single Archers writer belonged to the Writers Guild. Within a few weeks, the Guild had negotiated a fair and decent settlement with the BBC.
So the message is clear: if you believe in the principle of collective organisation to give you a sense of belonging in the ever de-personalising world of work, then join a union. If, however, you are interested only in personal gain, and how much you can screw from the system regardless of the efforts of others… then join a union.
Or two.
Tweet
Follow @chortle
Published: 7 Apr 2013