Peter Kay: The Tour That Doesn't Tour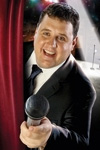 Show type: Tour
The star of the BAFTA-winning Phoenix Nights, Max & Paddy's Road To Nowhere and Britain's Got The Pop Factor returns to stand-up for the first time since his 2003 Mum Wants A Bungalow tour.
Speaking ahead of his return, Peter said: "Writing my book recently made me realise just how much I used to love and have missed performing stand-up."
His Mum Wants A Bungalow tour still holds the record as the biggest-selling British stand-up DVD and tour of all time.
Comedians
Reviews
Comments
Older Comments
Show Dates
ADVERTISEMENTS
This comic also appears in: