Frank Skinner 2007 tour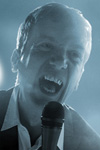 Show type: Tour
Frank Skinner, one of the country's finest and funniest comedians, returns to live stand-up, a decade since he played his last major live gig - to a record-breaking packed house at London's Battersea Power Station.
Over the last ten years Frank Skinner has become a predominant name in entertainment, starring in numerous smash hit TV comedy shows, including Fantasy Football, The Frank Skinner Show, and Baddiel and Skinner Unplanned.
Frank's prolific career to-date has also seen him top the UK best-sellers book charts; attain two number one hits with the football anthem Three Lions alongside David Baddiel and The Lightning Seeds; and, most recently, create an online sensation with close to one million downloads of the Baddiel and Skinner World Cup podcasts.
Now you can experience Frank's wicked sense of humour in this completely uncensored, totally live, and positively hilarious brand new show. Book now to avoid disappointment.

Comedians
Reviews
Original Review:
When Frank Skinner ill-advisedly chose the glaring spotlight of the Montreal comedy festival to launch his stand-up comeback after a decade away, the result was patchy, to say the least. A long way from being gig-fit, he just about held together a half-decent solo show, although it was way beneath his best, and virtually died in a club environment, where few would have known his pedigree.
But now, one Edinburgh run and 52 tour dates later, the assured comic on stage at the Hammersmith Apollo bears only a passing resemblance to that rusty figure, uncertain of where the laughs lay. Fun-time Frankie's got his mojo back – and is back on scintillating form.
Little material is left from that Quebec jaunt just over three months ago, save for a Heather Mill-McCartney routine that starts with an astute, and little-made, observation on the sorry case, before lapsing into the inevitable bout of jokes about her missing leg.
For the most part, though, Skinner's back doing what he does best. Filth. And he's utterly disarming in delivering it.
When he talks about the stark realities of his sex life, it's not from some laddish braggadocio or some knee-jerk desire to be gratuitously crude for shock value alone. He simply abandons his ego and tackles his subject – and there really is only one subject - with a matter-of-fact honesty, sharing genuinely witty home truths that are easy to relate to, if slightly uncomfortable to bring up.
He might elicit the occasional pantomime shriek of mock outrage as he describes in graphic detail some of his one-night-stand exploits, and just maybe the odd uncomfortable squirm of anticipation. But with his cheeky-chappy demeanour, he's so skilful at making the bad taste almost palatable, no one really can take umbrage. For all the talk of spunk, piss and paedophiles, he still comes across as little more than a harmlessly 'blue' comic, almost from another era.
Indeed, the only thing you might bristle at is a throwaway aside early in the night about sharing a dorm with a gay man that slips into a dated 'backs against the wall, lads' attitude; and even that's so quaint as not to be terribly offensive.
Skinner is one of those acts you suspect was always destined to be a comedian. His style is so natural and relaxed, that engaging 3,000 people comes as second nature. Plus he lives – or at least lived – the sort of reckless life that's sure to throw up a rich catalogue of embarrassing anecdotes ready to be shared with an eager audience.
But now he's turned 50 – though he doesn't look it and barely acts it – he's trying to take stock. He's on the pills now, given up the booze and the one-night stands, and the aging process provides an undercurrent to much of the material.
He even wants to settle down, and in a revealing out-of-character routine late in the second half starts agonising over the hidden meaning of a potential girlfriend's text message, until he's reduced to a quivering wreck, lying helpless with angst on the stage floor. For all his appeal to blokes, this shows another, dare we say more sensitive, side to the rakish Frank.
It's only a fleeting glimpse, though, for Skinner knows his demographic: the lads shouting encouragement from the stalls as if they were on the terraces. His appeal, though, is wider than that. His anecdotes are raucously hilarious, his charm palpable and his mischievous spirit as lively as ever. Welcome back, Frank.
Reviewed by: Steve Bennett
Hammersmith Apollo, November 2007
Date of review: Nov 2007
Comments
Older Comments
Show Dates