Danny Hoch: Taking Over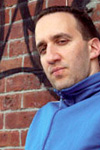 Show type: Montreal 2008
Danny Hoch returns to the stage to unveil his latest work—a one-man tour de force that captures the indelible characters of his neighborhood, where the melting pot is boiling over with ethnic and economic tensions. Danny effortlessly transforms across the boundaries of race, age and gender, masterfully depicting a city in transition with compassionate and hilarious results.
Comedians
Reviews
Original Review:
This is native New Yorker Danny Hoch's angry protest at the unstoppable gentrification of the once poverty-ravaged Williamsburg neighbourhood of Brooklyn, where back in the day struggling immigrant families tried to survive amid crack dens and casual violence.
The immigrants now come from no further than the mid-West, and the drug dealers replaced by sushi bars. Hovels have been flattened, replaced by $1.7million condos, and the cultural mix is getting a lot whiter.
Hoch's fellow artists were the advance landing force, making the area first bohemian, then fashionable, and now exclusive, a seismic shift for the communities that once called Williamsburg home.
He puts his opinion across through several nuanced characters, whom he brings to life with a vibrant, sinewy performance. Whatever their gender, age or ethnicity, he is utterly convincing in the role. Only one thing, really, to note is that for a comedy festival show, it's not all that funny.
There is a subtle wit to many of the characters, and it has its moments of levity, as any drama should, but this is a performance powerhouse with a social message; any laughs are purely incidental.
It's a big, complex issue he's tackling, and he does it provocatively. He yearns for the old days when he saw a teenager slowly bleed to death in the street, a knife protruding from his neck, as the cops hassled bystanders for cocaine possession. This, he argues, is more 'real' than the organic supermarket that now stands on that site. He pines for a return to those days. At least there was a sense of community then.
He puts his case through a collection of those displaced by the advancing middle classes. The newcomers are represented by Kaitlin, a flighty but well-meaning trustafarian selling vintage T-shirts on the street. Then there's the Stuart, the 60-year-old developer, for whom Hoch has some understanding, but little sympathy, making him strike ridiculous Pilates poses as he explains his business plan.
Hoch has more affinity with the ethnic characters. The streetwise young man just out of jail and trying to hustle work from th crew filming in the street, or the half-Puerto Rican hip-hop MC Launch Missiles Crucial, preaching a revolutionary message. He gets the best comedy lines of the night by reading out the incongruous list of forthcoming arty events at the community centre.
Elsewhere, we have the Dominican cab controller, speaking only in Spanish (don't worry, it is subtitled), the elderly black woman sitting on her stoop, invisible to the newcomers but keeping a beady eye on the children in her care, and an irritatingly optimistic French real estate agent, selling the exclusive new apartments to potential buyers.
The piece is a little too long, and Hoch's preachy postscript, delivered as himself, is especially indulgent. It's also hard to be entirely comfortable with his romanticising of the rough history of Williamsburg – even if he does leave room for ambiguity as to whether he'd really like to return to a heroin dealer on every corner, rather than a Starbucks.
But it's an acting tour-de-force, from a man with an obvious and genuine passion for the subject matter. It'll play very well in the fashionable performance spaces of a newly-gentrified city district near you.
Reviewed by: Steve Bennett
Montreal, July 2008
Comments
Show Dates