TeakShow's Twisted Sketches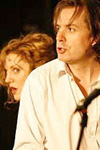 Show type: Misc live shows
Welcome to the world of the Teak Show. A fast-paced, razor edged blend of sketch & character comedy. Darkly surreal meets frothy sauce with: deluded twins, smug eurotrash, 18th century football hooligans, health nazis, crazed preachers and more. All performed with impertinently slick, relentless energy.

TeakShow will leave you scarred, breathless and crying for your mum. But in a good way.
Comedians
Reviews
Original Review:
Marvellous manic performances and a melodramatically brooding atmosphere lend TeakShow a touch of sinister class, but although the menagerie of warped characters is expertly realised, the comedy element of this dark sketch show is more uncertain.
Jackie Stirling and Johnny Hansler certainly have the acting talents to bring their various nutcases to sometimes terrifying life, despite the tiny midweek audience at the Gilded Balloon. But rather too often 'odd' is offered as a substitute for 'funny', so laughs can prove elusive.
There are some stand-out moments, however. The football hooligans speaking as if from the pages of a Jane Austen novel are wryly amusing, as is the clipped seduction of the stifled twenties aristrocrats, while the idea of the audience as a zoo exhibit is a very nice one. The stand-out creation, though, is Stirling's terrified sex therapist, nervously blurting out her tips on how to get someone to 'do sex with you'.
The pair employ some entertainingly inventive swearing, but often resort to cheap below-the-belt references for their hoped-for laughs, never more so than in their rampant Eurotrash couple. Elsewhere, a prowlingly psychotic pair who link the sketches are unnervingly weird, rather than funny, while the middle-class parent trying to get her child into a church school mines very obvious material, despite the extravagance of the execution.
Teakshow are still relatively new to this sketch game, and their best skits and their ability to create an all-enveloping atmosphere demonstrate a talent that needs to be backed up with more consistent writing. But the performances and direction are as assured as they are intense, giving the pair a distinctive angle ready to be exploited.
Reviewed by: Steve Bennett
Leicester Comedy Festival, February 2009
Comments
Show Dates