Jay Sodagar Announces World War 3 – Unofficially!!!!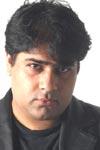 Show type: Misc live shows
The world's impending death and destruction by man. What a perfect subject for razor sharp-witted political comedian Jay Sodagar. Could we already be in WW3? is it psychological warfare? How stupid are world leaders and the people who vote for them? One man MAY have the answers (if not you'll laugh till we all die) Vote Sodagar for God.
Comedians
Reviews
Comments
Show Dates