Nick Sun: UnFucTheAbyss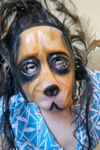 Show type: Melbourne 2009
This show is for anyone who has ever felt like a freak out of step with the rest of humanity. This show will blow your mind and cure your jaundice. This show will fill that inexhaustible hole inside of you. This show will raise the dead and make you see the light. And it cures psoriasis too. La la la la la.
Comedians
Reviews
Original Review:
To say UnFucTheAbyss is something of a mess is epic understatement. It's not so much all over the shop, but right out the doors, running around the mall with its trousers round its ankles screaming jibberish. It is difficult to watch; sometimes embarrassingly awful, sometimes bewilderingly weird.
Yet beneath the wildly inconsistent shambles, glimpses of potential genius can be seen Ambitiously, Nick Sun doesn't fight shy of bringing up big philosophical concepts or scratching at difficult truths. But his wilfully self-destructive tendencies cause every grand idea to come crashing down in a mangled heap of lost opportunities.
That is deliberate, all part of the outsider's shtick, but reduces every potentially great routine to a mass of self-indulgent strangeness – which is quite a damaging side-effect.
A strong self-pitying theme runs through the hour, with him wondering aloud why he's stuck performing to four people in an obscure fringe venue, while safer, hackier comedians are raking it in at the Sydney Comedy Store. He desperately pleads for a kind Chortle review which he hopes could resurrect his flailing career – a train of thought leads him to lapdance, Alan-Partridge style, as he shamelessly prostitutes himself for approval. I did say this could be uncomfortable to watch…
At other times he might fling himself forcefully into the rows of empty chairs, flapping around on the floor like a landed haddock, or suddenly plunge the stage into darkness as he bails out on leftfield routine that's losing the scant audience.
For all his many faults, Sun – who won So You Think You're Funny talent contest at the 2004 Edinburgh Fringe – could yet make a brilliant comedian. But he does need focus and consistency: two things that seem anathema to him.
He revels in the perceived rawness of what he's doing; he seems to think that the lack of technical skills or structure somehow makes the show more genuine. But being able to communicate clearly and engagingly isn't selling out, it's doing the job.
If he could compromise some of the more challenging artistic weirdness without sacrificing all of his spontaneity, this would be an infinitely more accessible show. That might be a dirty word for him, but if he could get across some of those big ideas, and his frequently funny take on them, he might find himself a lot more bookable.
But that might cost him some of that air of vunerable desperation and valiant failure which he so revels in. Reviewed by: Steve Bennett
Melbourne, April 2009
Comments
Older Comments
Show Dates