Keating!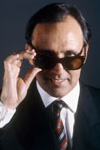 Show type: Melbourne 2007
Charting the reign and fall of the Placido Domingo of Australian politics, Keating! burst into life at the 2005 Melbourne International Comedy Festival where it won all available awards including the Barry Award for Most Outstanding Show, The Age Critics' Award and the Golden Gibbo. Following sell-out seasons around Australia, creator Casey Bennetto won a Green Room Award and a 2006 Helpmann Award, both for Best Original Score. Casey then teamed up with Company B Artistic Director Neil Armfield to make his outlandish and biting musical bigger and better than ever.
Comedians
Reviews
Original Review:
As an Englishman with little knowledge of early-to-mid Nineties Australian politics, I'm hardly the target audience for a musical about the former Prime Minister. That's why I gave Keating! a miss two years ago when it was making waves at this very festival – surely so many references would pass me by that I couldn't do it justice.
Well, now expanded into a two-hour extravaganza and fresh from a sell-out tour of Australia, the show is simply too big to be ignored. Paul Keating himself came to the first night of its Melbourne homecoming this weekend – the premier at the premiere – and it's the talk of the town once more.
The references, I still don't get. But it makes not a jot of difference. This is a triumph: the songs, the jokes and most of all the performances make this an electrifyingly entertaining piece of theatre. Who cares if you don't remember the ins-and-outs of a debate on the introduction of the GST sales tax, when it's explained in the form of an Eight Mile-style rap battle, all becomes clear.
Composer Casey Bennetto has brought all manner of musical parodies to bear on his tale: from rock and roll to reggae calypso; from Elton John ballad to mambo. And what an ear for rhyme he has, too - anyone who can pair 'Treasury jiggery-pokery' with 'investing in a piggery, locally' clearly has a unique talent. It makes for a series of memorable toe-tappers, with the ridiculous images of sombre men in suits singing the gag-rich lines only adding to the comedy.
As Keating, Mike Mcleish proves himself the brightest of stars. Ablaze with aloof charisma, he commands the space; the perfect actor to transform a politician into a folk hero. On stage and singing, for all but a couple of numbers, he nails every diverse style and every sharp lyric with unfailing precision. But, more crucially, you just can't take your eyes off him.
Terry Serio takes a couple of roles, but it's as current PM John Howard that he absolutely shines. Portraying him as a clumsy, power-crazed, clueless buffoon desperately keen to be seen as one of the ordinary blokes, he captures the spirit of the real leader and caricatures it savagely. It's not an impersonation – he misses Howard's distinctive voice by quite a way – but much more that that; capturing his movements and physicality to create a worryingly believable parody.
The battle at the climax of the show is between progressive, dynamic Keating and the conservative, don't-rock-the-boat Howard. Again, you don't have to be a student of Australian politics to understand this fundamental clash of cultures.
Along the way, the cast have some fun at the expense of various supporting players in the Canberra Parliament. Musical comic Eddie Perfect, who can often be too self-congratulatory slick in his own acts, gets to shine in a playfully OTT Rocky-Horror style slice of high camp, turning Foreign Minister Alexander Downer in to a cross-dresing freak; while a forbidden affair between rival politicos Cheryl Kernot and Gareth Evans provides a melodramatic interlude. These are hilarious without knowing the back story, so no wonder the audience are in hysterics.
Despite its transfer to the grown-up theatre, Keating remains enjoyably simple, keeping the focus on the songs and the performances, where it belongs. The stage is simply the talented band in front of a rotatable step for the actors to pose upon. Brilliant lighting design is all that sets the mood, allowing the book and score to speak for themselves. The production is so big in spirit, it needs no elaboration save for an election night broadcast played out by nonsense-nattering talking heads that gets the drama across without a coherent word.
Keating! is quite simply brilliant, exuberant fun. The only shame is that its subject matter means it will never transfer to the UK.
Reviewed by: Steve Bennett
Melbourne, April 2007
Comments
Show Dates