Dave Jory Is Polished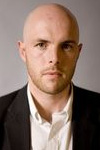 Show type: Melbourne 2007
Dave Jory is a bald guy in a black suit with an hour of polished, original, very funny stand-up comedy. The title, Polished, refers both to the material and to Jory's shiny head. This show is just hilarious. It has no message. You won't learn anything.
Comedians
Reviews
Original Review:
Well, you won't catch Dave Jory out on any trades description legislation. He is indeed one polished performer.
He's not even fazed by his venue at the comedy festival: the concrete, bunker-like back room of an underground bar at a backpackers' hostel. About eight punters have somehow found their way here – a far cry from the 2,000 he performed to a week or so earlier, when he opened for song parodist Weird Al Yankovic.
It's hardly auspicious, but Jory gets on with the job in hand without complaint, surely the sign of a true pro.
Unfortunately, though, there's not much to this thirtysomething Sydneysider that this slick front. He seems like a nice enough bloke, but doesn't have the strong lines or killer anecdotes to be anything but instantly forgettable.
He's upfront about the show not having any theme or message. 'You won't learn anything,' he confides from the get-go. Fair dos, not every show needs to be high concept, but when your hour is reliant on material alone, it has to be a lot sharper than this.
He chats amiably about his life; about gigs he's done in tough biker bars, about adventure trips to New Zealand, about his relationship… but there's rarely a punchline to any of it, nor much of a yarn to be spun.
Jory has the MC's knack of getting strangers to enjoy his company – his biggest success here is in persuading the audience to lose the self-consciousness of the awkward situation and bleak situation – but he then does nothing with it. If you're introducing another act in five or six minutes, you can just about get by on that, but when you are the show, the slightness of such an aimless conversational style is brutally exposed.
Reviewed by: Steve Bennett
Melborune, April 2007
Comments
Show Dates