Daniel Townes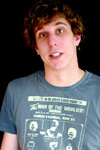 Show type: Melbourne 2007
This time around sees the award-winning comedian share an honest account of his life - mainly the bad choices he has made and the consequences they've had. It's a personal journey through the self-inflicted harder times of his life, the things he wishes he could change and, at the same time, realises are a part of who he is.
Comedians
Reviews
Original Review:
Relative newcomer Daniel Townes has an appealing manner, an eye for the ridiculous and a fluid, easy delivery of his first-hand anecdotes.
Yet he lacks the sharpness that would covert this promising raw material into solid comedy gold. It's perhaps the near-absence of a vibrant, year-round comedy circuit in Australia that's to blame, offering too few opportunities for him to refine his craft. Playing late at night to eight people in a storeroom hastily converted into a comedy festival venue is unlikely to offer too many lessons, either.
Townes does have potential, though, as proven by his recent victory in a local contest to take part in the Yuk Yuk's international competition in Canada; the same contest, incidentally, that Chortle's student winner will attend. Sadly, though, he failed to realise he needed a transit visa even to change planes on US soil – and got deported before he even made it to Toronto.
The good news, though, is that this is just the sort of incident that Townes's observational, almost storytelling style of comedy thrives on, so obviously forms the first few minutes of his self-titled Melbourne show.
From there he meanders aimlessly but amiably through his various experiences: from a brief stay in London he thought was terrifying, to body image and through to sex material that 'starts really dirty and ends really sweet'.
It's a loose and unstructured conversation, which makes it feel lightweight for a solo show, although you can imagine him working well as a compere, especially given he does like to chat to the audience, even one as sparse as tonight's, to put them at their ease.
Townes is planning to return to the UK after this festival, which should do him the world of good. In the fiercely competitive British circuit, he'll either hone his talents to become a better comedian, or know that he's just a likeable bloke with a nice line in conversation.
Reviewed by: Steve Bennett
Melbourne, April 2007
Comments
Show Dates
ADVERTISEMENTS
This comic also appears in: