Pauly Shore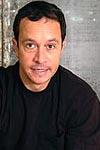 Show type: Melbourne 2006
This show has not yet got a description.
Comedians
Reviews
Original Review:
Pauly Shore has built whatever reputation he has in comedy on being an immature jerk.
His is one of those names you know, but can't quite place. For the record, he was in some dumb Eighties comedy movies, including Biodome and Encinio Man (called California Man in the UK) – but if you don't remember him from those dubious glory days, it only takes a couple of minutes on stage for him to mention them. It's pretty much all he's got, and presumably why he pulls such a depressing large audience.
The problem is that an hour in the company of an immature jerk is a soul-sapping ordeal. This is a 38-year-old white man who still calls everyone 'bro' and whose boastful routine revolves around him trying to exploit his fast-fading fame to score with teenage girls. It's the story of a sad middle-aged man trying to act cool – and while he expresses a touch of self-awareness about his empty life, he still celebrates it.
Shore has only one adjective in his vocabulary: 'fucking'. That sounds like exaggeration, but in a whole routine taken at random, only that and one 'hardcore' were the only ones I counted. The relentless use of profanity several times a minute isn't a complaint on prudish grounds, but on the fact that he has no wit, imagination or intelligence to use anything else.
To go with his one overused adjective, Shore has just one comedy tool in his box – and that's to mime out sex acts. So in the show we get impressions of him sucking cocks (at least twice), masturbating, raping Kylie Minogue from behind, screwing a Swedish teenager, having a girl on top of him, shaving his pubic hair and performing cunnilingus, to name but eight. This is one-note stuff, and the note is a low one.
Let me quote one of the nearest things to a joke he's got. 'There are no black people in this town. Which is good. It means I've got the biggest dick in the room.' Classy.
The galling thing is that this tripe goes down reasonably well. Although it has to be noted that he is performing to a room full of people who are still fans of bad comedy movies, 15 years after they were made, so it's perhaps not the best benchmark for quality.
Shore is the son of the Los Angeles Comedy Store's redoubtable owner, Mitzi Shore, and as such he's obviously seen enough proper stand-ups to be able to ape their rhythms, at least making his lowest-denominator tedium sound like real comedy. But the one thing he'll never be able to copy is the soul of a great comedian. He'll always remain just a jerk who got lucky.
Reviewed by: Steve Bennett
May 2006
Comments
Show Dates