Lawrence Leung & Andrew McClelland's Somewhat Secret Secret Society Show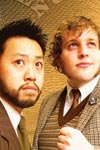 Show type: Melbourne 2005
This show has not yet got a description.
Comedians
Reviews
Original Review:
They are everywhere; clandestine societies with their closed memberships, furtive gestures and hidden agendas of world domination, subversion or plain old sex and money. From the Ku Klux Klan to the Masons, or even the Skull and Bones, the underground university brotherhood both George Bush and John Kerry belonged to, conspiracy theorists are convinced the world is ruled by shadowy, nefarious organisations.
It is a world of overblown claims and counterclaims rife for mocking. And Lawrence Leung and Andrew McClelland are just the men to do it.
Their Somewhat Secret Secret Society Show is meticulously researched, unveiling all manner of obscure fellowships from Victorian England to a so-called 'gardening' society in their own back yard. They make The Da Vinci Code look like a shallow, flimsily-researched, pap-filled potboiler for the gullible.
Yet for all the fun they have sniping at the deluded souls who join these societies, the subject of this jaunty multimedia hour is almost irrelevant. Leung and McClelland have so much fun messing about, they could be talking about almost anything.
They have a great double-act dynamic. Leung is the serious, uptight nerdy one who's done all the academic groundwork, then collated his findings into PowerPoint presentations. McClelland is both his fool and foil, the obsessive nutter who gets carried away on misdirected passion and a playful sense of mischief. He's a cheekily energetic comedy natural, a great joy to watch, with an effortless rapport with his old schoolfriend Leung.
But his oppo is no simple button-down straightman, contributing his share of off-the-wall set pieces – recording a Cantonese Christian rock song to send to a racist 'church' setting up shop in Melbourne, for instance. The difference is Leung always needs a logical reason to justify what he does, while McClelland operates under no such constraints.
Both have already achieved some acclaim as solo artists, McClelland winning last year's Piece Of Wood award for the comedians' comedian at Melbourne with the pirate-based show he then took to Edinburgh, but together they are comedy dynamite. If they don't become huge, it can only be because the secret societies have conspired to silence their message.
Reviewed by: Steve Bennett
Melbourne, April 2005
Comments
Show Dates