The Kinsey Sicks: America's Next Top Bachelor Housewife Celebrity Hoarder Makeover Star Gone Wild!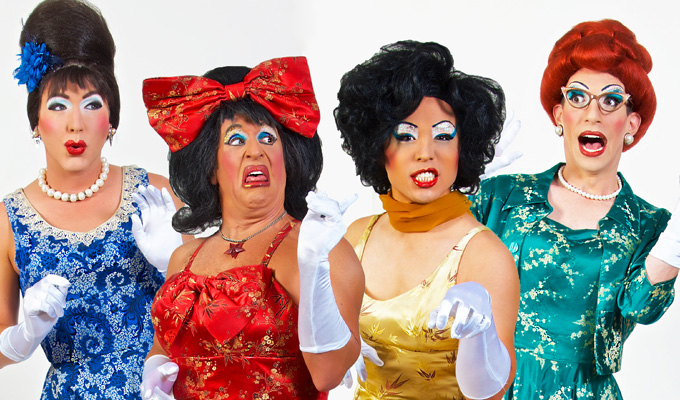 Show type: Edinburgh Fringe 2015
Critically acclaimed off-Broadway and Vegas runs, two feature films, and now a long-awaited Fringe debut! An unforgettable hour of 'dragapella', a unique take on a cappella: stunning four-part harmonies, wicked parodies, brilliant original songs and over the top drag! Join our four lovably bizarre heroines in reality TV hell as they compete in challenges involving dating, dieting and, of course, animal tricks. What outlandish surprises await them – and you? 'The hottest ticket in town' (New York Times). 'Riotously funny ... sublime' (Variety). 'Hilarious' (Billboard). www.kinseysicks.com
Comedians
Reviews
The Kinsey Sicks: America's Next Top Bachelor Housewife Celebrity Hoarder Makeover Star Gone Wild!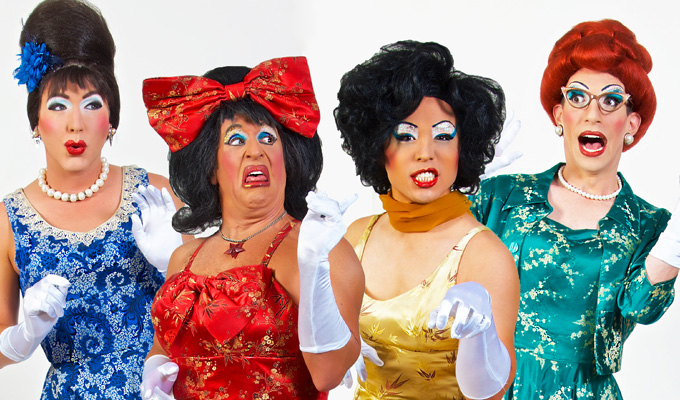 The Kinsey Sicks are an a cappella drag queen quartet who deliver everything you would hope and expect an a cappella drag queen quartet to deliver – and do so very well, even if there are few surprises.
They're perfectly dressed in Fifties housewife chic, cross-dressing, not crass-dressing. They've horn-rimmed glasses, a Minnie Mouse hair bow, a beehive, party frocks colour-coded cyan, magenta, yellow and red and a pearl necklace. And if you sniggered at 'pearl necklace' this may be the innuendo-laden show for you. When a urologist is mentioned, as she must, she's called Uma Cockburn. That's the level, and they have much fun with it.
The 'dragapella' outfit – named after Kinsey 6, the ranking on the scale of human sexuality defined as 'exclusively homosexual' – mix song parody rewrites with a few of their own compositions, most notably one in honour of the sainted Princess Di. And they have fine voices all; producing close harmonies that are rich and effective.
Their premise is that they are on a reality TV show, being watched by hidden cameras at every turn – allowing throwaway jokes about the degradations they must go through in the name of entertainment, their desperation to hit the big time, and some barely-concealed bitchiness. Though really, the set-up is incidental.
All four have distinctive personalities, with Rachel, the butchest and probably the funniest of the bunch, turning aggressive on a sixpence. She's played by Ben Schatz, one of the founder members of this San Francisco-based group more than 20 years ago.
Trixie (Jeff Manabat) is the self-centred glamorous one, determined to be a star at whatever cost, Winnie (Irwin Keller) the matriarchal peace-maker who tends to drive what plot there is, and Trampolina (Spencer Brown, not the stand-up of that name) defined mainly for being a lesbian, for the jokes that opens up.
It's an hour of jaunty high spirits, performed with a handbag full of fun. There's an occasional nugget of social satire thrown in, but the lure of the pun and the double-entendre is far more powerful – which means when they mention Vladimir Putin, it's for a brief refrain of Putin On The Ritz.
The commitment to the fake, larger-than-life performances and the dynamic between the characters maintains the buoyancy of a show that'll provide a fine, undemanding conclusion to a heavy day's Fringe-going.
Comments
Show Dates