Paul Chowdhry: What's Happening White People?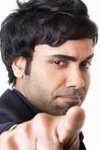 Show type: Edinburgh Fringe 2012
Paul Chowdhry star of Channel 4's Stand-Up For The Week with a brand new show.
Seen by many as the UK's number one Asian comic, with over 3 million YouTube hits of his highly charged dry observational humour tapping into the multicultural diversity of contemporary Britain.
Show Dates
ADVERTISEMENTS