Dr Phil's Rude Health Show... Or How To Pleasure Yourself In A Safe And Sustainable Way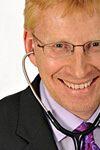 Show type: Edinburgh Fringe 2011
Blue leather seats, instant diagnoses, free placebos….
Erectile dysfunction quote of the day (a patient): 'I'm still keen but it's like playing snooker with a piece of rope..'
Sex addiction quote of the day (Radio 5): 'Just like any other addiction, it's all about filling a hole.'
STIs on the increase (again). Time to invent a condom you can put on first time, the right way around, with less than five hands.
Show Dates