Sam Simmons: Fail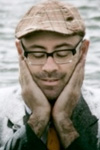 Show type: Edinburgh Fringe 2010
I wrote this show in a cave using only the light from the screen of a Nokia 3600.
It took me 7 straight weeks and I only had one change of tracksuit pants.
I maintained sustenance by sucking condensation off the walls and toasting moths over my phone.
I need to recharge.
FAIL
Comedians
Reviews
Comments
Older Comments
Show Dates